Martin Scheinin is no stranger to the Tundra Tabloids, he's the same international law professor (marxist clown) who….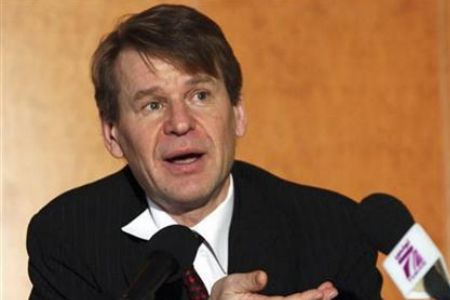 wondered whether "counter-terrorism measures targeting bombers who dress as women would offend the rights of transsexuals?".
Sobs big tears in a docu-propaganda film over treatment of GITMO IslamoNazis
As UN special rapporteur on protecting human rights while countering terrorism, wondered whether Osama BinLaden was given a chance to surrender.
Finnish blogger Vasara Hammer: "The Finns party have created an immigration policy statement. Professor and human rights expert, Martin Scheinin, says that's the facts are not right:
According to international law professor, Martin Scheinin, the controversial program is not based on fact.

– Surely, this is not a truthful paper. There are sentences that seem to refer to the facts, but which represent the authors' imagination, rather than that they should be of a factual basis, says Professor Martin Scheinin at the European University Institute in Italy.
Vasara Hammer continues: "Scheinin is a former member in the Central committee of the Finnish Communist Party. This is not mentioned in the article. It's funny how the communists never change their style. Plain lying and distorting the opponent's original argument have been part of their modus operandi since the very beginning."
Halla-aho responds to Scheinin's "arguments" in the The Finns own party website paper:
Halla-aho responds to "SKP-professor's" criticism
Martin Scheinin, who criticized The Finns Party's immigration program in the Ilta-Sanomat gets hammered by the person who prepared the program, Jussi Halla-aho (PS.). It was also a cause for amazement, as to why the Ilta-Sanomat used as a neutral expert, the strongly politically committed Scheinin.
Halla-aho names the theses listed by Scheinin in the IS's story, and answers them:
"Scheinin points out that migrants do not make asylum applications, but only asylum seekers."
Halla-aho: It's stupid quibbling. Applications for asylum have become a form for migration. Human rights groups themselves call people coming across the Mediterranean, immigrants, despite the fact that they almost always leave applications for asylum.
"Under EU law, asylum must be first sought in the country to which you are taken."
Halla-aho: It is, but this isn't happening. The European Court of Human Rights has outlined among other things, that despite the Dublin Regulations, an asylum seeker can not be returned to Greece. If application for asylum is in the first country to which you are taken, where are all the asylum seekers coming from that are going to Finland and to Sweden in  Scheinin's view? From outer space?
"If the five largest recipients of asylum seekers are listed, these northern member states extend from Sicily to the Arctic Circle. Finland does not fit in the ranks, each Mediterranean country receives more asylum seekers, some many times over compared to Finland. "
Halla-aho: The Finns Party has not claimed that Finland would take more asylum seekers than the Mediterranean countries. But the fact is that for example, in Sweden and in Germany, take more asylum seekers than the Mediterranean countries, even though they are not the first countries of entry.
"Scheinin, the program also presents an unconstitutional violation of human rights in many different spots, such as the proposal for a tightening of family reunions."
Halla-aho: Completely untrue talk, outright lying. The Constitution, other than than family reunification, do not preclude the imposing of more stringent requirements, for example on reunification income, or housing within the country over time.
[…]
"True Finns also proposes to transfer incomes of immigrants for decentralization across the country and forcing them to live in the place indicated in the savings and better integration because of – these are contrary to the freedom of movement of the Constitution and are incompatible with the proposals. It is not acceptable, Scheinin says. "
Halla-aho: Freedom of movement does not mean freedom to choose at the Finnish taxpayers expense housing wherever they like.
"In some sections it is said that refugees and immigration should be separated from each other, while in others it deliberately mixes up these two things, Scheinin wonders."
Halla-aho: asylum, migration is used for communication. That is why they are now difficult to distinguish from each other.
"People should help closer to the country of origin, but they want to cut development assistance."
Halla-aho: These are not in conflict. Development aid is not part of the state's core functions, and therefore it has to be cut, if everything else is cut. It is money that development assistance is used, however, it is used in the most efficient way, ie. Closer to the countries of origin.
[…]
Editor's comment | Ilta-Sanomat interviewed presented Scheinin in the IS's story as a professor at the European University Institute in Italy. The article, however, failed to mention the fact that he has been a key player in the SKDL and in the Communist Party's ranks. He has served as the Finnish Communist Party Central Committee member. It is questionable as to whether a person a strong commitment for a particular political orientation can act as a credible commentator on a political opponent's issues.