Nah, just with the huckster-in-chief and some of his lackeys in Congress.
Remember, this is an al-Reuters article, so you have to learn to read in-between the lines. Israel is only at odds with 1/3 of the US government, the majority sides with him, which makes the al-Reuters article all the more pathetic.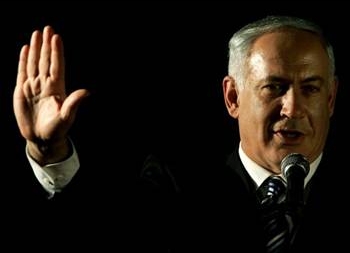 Netanyahu on collision course with White House over Iran
By Luke Baker
JERUSALEM (Reuters) – For someone who was educated in the United States, speaks fluent American-accented English and worked as a management consultant in Boston, Israeli Prime Minister Benjamin Netanyahu sure knows how to rub his closest ally up the wrong way.
In surprisingly critical and unvarnished comments on Wednesday, White House spokesman Josh Earnest accused Israel of distorting details of the negotiations over Iran's nuclear program in order to scupper the talks.
It was the latest in a series of increasingly terse exchanges between Netanyahu's right-wing government and President Barack Obama's administration that has brought U.S.-Israeli ties to their worst pass in decades.
"There's no question that some of the things that the Israelis have said in characterizing our negotiating position have not been accurate," Earnest told reporters, after Netanyahu dismissed the emerging deal with Iran as "bad and dangerous" and said he would do what he could to prevent it.
"We see that there is a continued practice of cherry-picking specific pieces of information and using them out of context to distort the negotiating position of the United States."
If Earnest's words weren't already stern, it is only the beginning of what is likely to be a tense two weeks in the run up to March 3, when Netanyahu is scheduled to address a joint session of the U.S. Congress on the threat from Iran.