Muslim Brotherhood scumbag.
Seeing that he married a Paleostinian Muslim, he has to have converted to Islam, or she apostated. But seeing that he pimps for the IslamoNazis, I tend top believe that he converted.
GROVER NORQUIST'S ALLEGED ISLAMIST TIES THREATEN REELECTION TO NRA BOARD OF DIRECTORS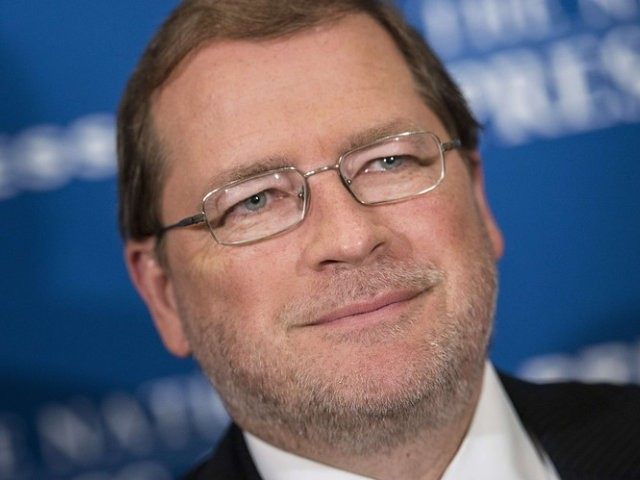 AFP / Brendan Smialowski
Americans for Tax Reform (ATR) president Grover Norquist has written a letter to several members of the NRA's board of directors fervently denying allegations of his ties to Muslim Brotherhood leaders as "conspiracies."
Norquist is currently facing re-election for his position on the NRA's board of directors, all while these accusations against him have come under renewed attention—and could dominate discussion of his NRA role in the coming weeks.
In the letter obtained by Breitbart News, Norquist accuses Center for Security Policy (CSP) president Frank Gaffney, a former official in Ronald Reagan's Pentagon, of being a "stalker" he has had to endure for over a decade. Norquist's  letter comes as journalist and blogger Lee Stranahan—formerly of Breitbart News, now an independent journalist working for the new media product "Brought To Light"—alleged deeper ties between Norquist and radical Muslims.
"One of the 'benefits' of achieving some success in fighting for liberty in the city of Washington D.C. is that some people come to believe you can do anything," Norquist wrote.
Sadly this includes some sad individuals who convince themselves that you are responsible for their personal failings. I have such a stalker whose conspiracy theory is that I ran the Bush White House and presidency. And that I used my superpowers to one single end. To keep him (Frank Gaffney) from being employed in the Bush Defense Department and from being recognized as this generation's Winston Churchill.
[…]
Gaffney responded to Norquist in a letter of his own to the NRA's executive vice president Wayne LaPierre on Wednesday, a copy of which was also obtained by Breitbart News.
"As you know, they [NRA board members] received recently a letter from one of their colleagues, Grover Norquist, in which he makes a number of false representations that require correction," Gaffney wrote to LaPierre. "That is especially the case as Mr. Norquist is currently standing for reelection to the Board and the information he seems determined to conceal should be known by — and of concern to — every member of the NRA."
The things Gaffney says Norquist got wrong in his letter are the allegations that Gaffney said Norquist is a Muslim, gay, and responsible for Bush's foreign policy failures.
"Specifically, Mr. Norquist attempts to mislead you and other NRA Directors about the nature of his record and conduct about which I have been warning for many years," Gaffney wrote. "The issue is not, as he claims, that he 'ran the Bush White House and presidency.' Rather, the problem is that he helped Muslim Brotherhood operatives gain access to and influence over the George W. Bush campaign and administration to the detriment of the President's conduct of the 'War on Terrorism' and the national security."
Gaffney, to defend his claims, pointed to a "dossier transmitted a year ago to the then-leaders of the American Conservative Union" by leaders like former U.S. Attorney General Michael B. Mukasey, former Director of Central Intelligence R. James Woolsey, former Congressman Allen West, former federal prosecutor Andrew C. McCarthy, [and] former Commander-in-Chief, U.S. Pacific Fleet Admiral James A. Lyons.
Gaffney provided LaPierre with a link to "the dossier in its entirety" so he can personally review it as well.
In addition to that, Gaffney provided a summary of the details of the case against Norquist in his letter to LaPierre.
"The facts are the facts," Gaffney wrote. "Grover Norquist has served as an agent of influence for assorted Islamic supremacists since 1998 when he began taking at least $20,000 in seed money from a top Muslim Brotherhood operative and al Qaeda financier named Abdurahman Alamoudi to start the Islamic Free Market Institute. The Institute's transparent purpose was to afford Alamoudi and his fellow jihadists a vehicle for penetrating and subverting the conservative movement and Republican Party."
Alamoudi is currently serving a federal prison sentence.
"The good news is that Alamoudi was subsequently arrested, tried, convicted and sentenced to 23 years in federal prison on terrorism charges," Gaffney wrote. "The bad news is that Mr. Norquist has continued to use his various organizations and affiliations — including his membership on the board of the National Rifle Association — to deflect attention from such facts, pretend they do not exist or mislead the unwitting about them."
Gaffney also offered to personally brief members of the NRA's board of directors on these matters so the truth about Norquist can get out to them—and the public, and the NRA's membership—before the board votes on whether to affirm Norquist's reelection.