Amira Hass, pseudo hack journalist for the Haha-aaretz unavailable for comment: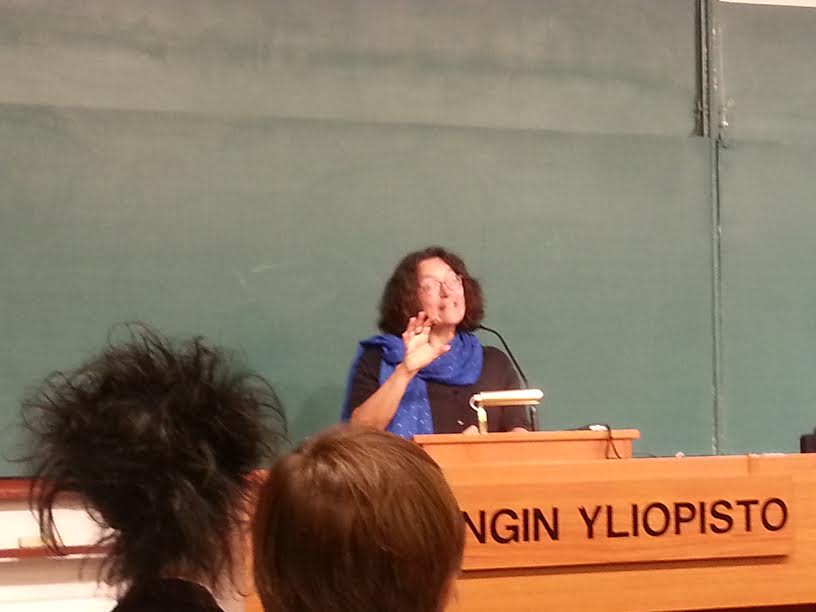 Amira Hass: Throwing stones is the birthright and duty of anyone subject to foreign rule. Throwing stones is an action as well as a metaphor of resistance.
Here's a video of myself confronting her in Helsinki.

Baby Adelle Biton Laid to Rest; 'A Great Soul in a Small Body'
Infant terror victim Adelle Biton brought to burial in her hometown of Yakir; 'her murderers want to murder us all.'
By Yoni Kempinski, Ari Yashar
First Publish: 2/18/2015, 1:37 PM
Four-year-old terror victim Adelle Biton was brought for burial early Tuesday afternoon in her hometown of Yakir in Samaria.
Adelle had struggled to survive since being struck directly in the head by a fist-sized rock thrown by Arab terrorists in March 2013 while riding in the family car outside Ariel in Samaria. She suffered critical wounds, and doctors said Adelle's recovery from the blow was nothing short of miraculous.
For roughly two years Adelle went through rehabilitation, but the severe nerve damage she never recovered from eventually led her to pass this Tuesday after suddenly coming down with pneumonia.
Adelle's mother Adva spoke at the funeral, saying in tears "they didn't give you a chance but you didn't give up for anyone. I didn't agree that they say you don't hear or don't understand, and you proved to me that you hear and understand. You never gave up, my warrior. Those vile people didn't take your beauty even after you were wounded."
"My Adelle, you're my whole world. Yesterday I saw your suffering, struggling for every breath. When they put you on emergency care I said to the Holy One blessed be He – either life or death, enough of your suffering. The Holy One blessed be He decided to take you to Him," added the bereaved mother.