Oh, and they're against terrorism, but Omar was a Muslim first.
UPDATE: Scroll down past first article: pics of masked youth removing flowers and message left on wall.
H/T: Fjordman
Copenhagen: Muslims will pray for Jihadist murderer Omar Abdel Hamid el-Hussein every Friday.
"We do not take distance. It is our duty as Muslims to stand together. No, a Muslim does not take away from the one who loves the Prophet Muhammad, peace be upon him sallam (peace and blessing be upon him, ed.). This man has felt pity for the suffering of Muslims in Palestine, he has a heart of gold. Look, there are lots of flowers – it is proof that people are proud of this man, because he sacrificed his life for what he believed in, "the man said.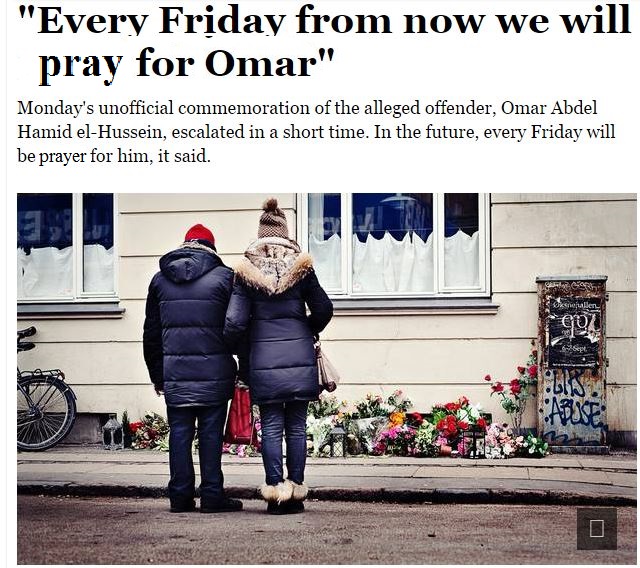 NOLA GRACE GAARDMAND Jyllands-Posten:
42-year-old Bilal Gurleyek sat down on his knees and put a note on the ground. He put it in front of the many flowers that passing through the day had laid on the ground in front of the place, the 22-year-old Omar Abdel Hamid el-Hussein Sunday night was shot and killed by police.
On the leaflet advertises Bilal Gurleyek that this place in the future must be the meeting place for the country's Muslims.
"I take great distance from his works, and I have a big problem with Islamists. But I have come here today because he was born a Muslim, and he died as a Muslim and as a Muslim I feel it is my duty to come and pray for him, "said Bilal Gurleyek who knew the presumed perpetrator, but now will start a new tradition in Nørrebro's northwest district of Copenhagen:
Every Friday he will invite other Muslims from the neighborhood to come and ask for Omar Abdel Hamid el-Hussein "Muslim soul '. Already, Bilal Gurleyek spoken with numerous men from the neighborhood, which will also make Svanevej to a fixed place of prayer every Friday.
[…]
In one clearly coordinated movement flower bouquets were gathered and thrown down the street. Supposedly because it is against Muslim tradition to lay flowers at a place where a person is dead. Instead young men put a sticky white slip up on the wall that read "Rest in peace. May Allah be merciful to you "before they went on their knees at the scene of the killing.
With your hands up in front of the ears prayed to God before the common herd stood up and shouted "Allahu Akbar" with fists in the air. None of the young men wanted to talk to Jyllands-Posten, but rumor among local observers was that one of the young masked men was the 22-year-old brother.
Whether this scene will be repeated every Friday in the future, none of those present talk with Jyllands-Posten on. But Bilal Gurleyek are cocksure:
"I definitely think that this will be a new gathering place for Muslims in Copenhagen.And it should also, for it is our duty to pray for another Muslim, "says Bilal Gurleyek.
Even after that, he seems to have done?
"It's only for Allah to decide."
MORE:::::::::::::::::::UPDATE:
H/T POTB: Nieuws.postonline.nl
Muslim Youth in Copenhagen bring tribute to killed terrorist
Young people say is 'discriminated' feel
Masked and unmasked Muslim youth Monday in Copenhagen flowers away from the place where Sunday the Islamic terrorist Omar el-Hussein was shot dead by police.According to the youth are flowers at a memorial monument in conflict with the Islamic tradition. Who previously had put the flowers in this place unknown.
The youth hung a plaque with the text: "In the name of Allah Most Gracious Most Merciful. May Allah have mercy. The location of your home is paradise. Goodbye my dear "and" rest in peace ".
The young people say 'brothers' to be shot the 22-year-old terrorist.
To questions from the Danish media they did not respond but sources at the Danish TV2 say young people feel "discriminated" in Danish society. They also believe that the media 'double standards' as hardly any attention is when a Muslim is killed.
After the young people had removed the flowers cried they create multiple "Allah akbar".
Update: interpretation of Islamic (mourning) rituals by our Islam expert: "While there are many Muslims who put flowers on graves, such use is prohibited by orthodox and fundamentalists because it would be an imitation of Christians, which are strictly prohibited. This has to do with the fact that the grave to bring a temporary shelter is worn open at the last day for the bones to life again. Sura 99 and 100 refer to the latter. "
Hilsen fra maskerede unge muslimer til den formodede terrorist: http://t.co/FYFkMwmmIR pic.twitter.com/ff00L5MZPf

— TV 2 Breaking | LIVE (@tv2breaking) February 16, 2015
Translation of the tweet: "Greetings from masked young Muslims to the Alleged terrorist.
On the plaque is in Danish: "May Allah have mercy on you, rest in peace."