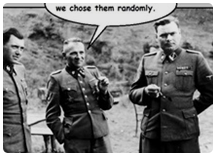 EXCLUSIVE VIDEO: It Really Was Random Folk Deli Terrorism
In an Israellycool EXCLUSIVE we can reveal the secret intelligence tape which confirms what President Barak Obama (and all the president's men) have been saying! The attack on the Kosher Deli in Paris WAS Random and the "bunch of folks" killed there were not targeted because they were Jews. Definitely not. No way.
Give Israellycool some TT action, Click here for the video.
NOTE: Or as Aussie Dave calls them: The Organization Against Smoked Meats (OrgASM)