History will remember these brave people of PEGIDA as the ones willing to stand in the breach and bear the hatred and vile of the idiotic in defense of western values and freedoms. Like this guy:
The thousands standing around them hurling insults and being forcefully held back by the police to prevent them from ripping the Pegida-demonstrators to bits are the "good guys".

According to the media and the government, it is the dozen or so in the middle that are a tremendous threat to people surrounding them as well as the fabric of society itself.
NOTE: The feminist party (FI) in their pink umbrella and flag were there to support the Muslims as well. Just like these pathetic morons in the UK: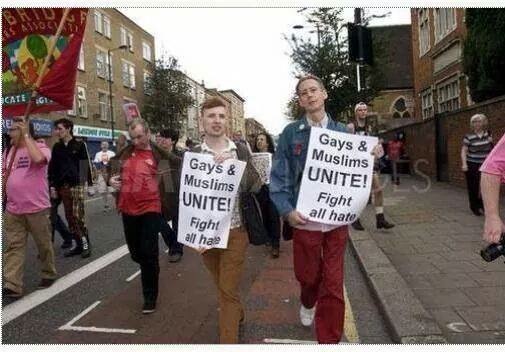 Part of the reason why these morons, whether they be lefties, feminists or homosexuals, are not fearful of Islam and the Muslims that promote it, is that they believe that they can control them.