She had ties with the anti-Israel / pro-IslamoNazi International Solidarity Movement (ISM).
Democracy Now! has learned that Mueller had previously traveled to the Middle East to work with the International Solidarity Movement in the Occupied Territories. In 2010, Mueller wrote: "After recently returning from one year abroad and working in Palestine with the International Solidarity Movement (

ISM

), among other non-profits across the globe, I have witnessed first-hand and have been disheartened by the dishonesty in this country's 'news' agencies."  Democracy Now
No sympathy from me. She is/was an aid worker, who also aided the jihad against the Jews. So a Leftist who supports IslamoNazis gets her last taste on what it's like in being with them up close and under their guns and scimitars.
Islamic State says airstrike killed US hostage, US skeptical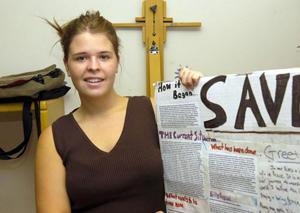 Kayla Mueller
Kayla Mueller is shown May 30, 2013, after speaking to a group in Prescott, Ariz. A statement that appeared on a militant website commonly used by the Islamic State group claimed that Mueller was killed in a Jordanian airstrike Friday on the outskirts of the northern Syrian city of Raqqa, the militant group's main stronghold. The IS statement could not be independently verified.
Posted: Saturday, February 7, 2015 12:00 am  Associated Press
BEIRUT — Islamic State extremists claimed that an American woman held hostage by the group was killed Friday in a Jordanian airstrike in northern Syria, but the government of Jordan dismissed the statement as "criminal propaganda" and the U.S. said it had not seen any evidence to corroborate the report.
The woman was identified as Kayla Jean Mueller, an American who went to Syria to do aid work, but there was no independent verification of the militants' claim. The statement appeared on a militant website commonly used by the group and was also distributed by Islamic State-affiliated Twitter users.
The 26-year-old Mueller, of Prescott, Arizona, is the only known remaining U.S. hostage held by the Islamic State group.
If the death is confirmed, she would be the fourth American to die while being held by Islamic State militants. Three other Americans — journalists James Foley and Steven Sotloff, and aid worker Peter Kassig — were beheaded by the group.