The Jyllands-Posten didn't republish the Charlie Hebdo mo-toons however:
Mr. Rose said in an interview that Jyllands-Posten had decided not to publish the latest Charlie Hebdo caricature for fear the newspaper would be targeted again. Still, he said it was imperative that Western newspapers not surrender to Islamic radicals.

"We aren't republishing the Charlie Hebdo cartoons because we are afraid," he said. "But I know well that if you give in to intimidation, it works."
I'm not going to judge their decision, they've already paid their dues, but I guess it's left up to the rest of us to carry the torch of freedom.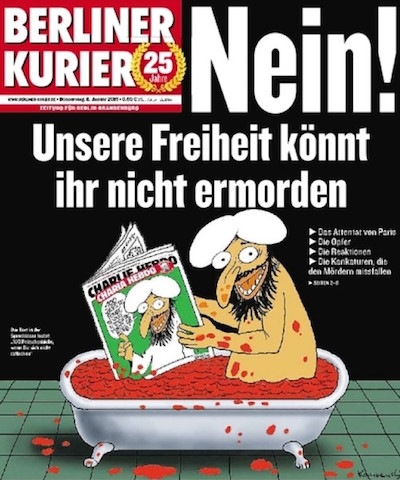 Muhammad cartoon editor put up for Nobel
Flemming Rose. Photo: Søren Bidstrup/Scanpix
Published: 04 Feb 2015 08:28 GMT+01:00
After the trauma of the Charlie Hebdo shootings in Paris, champions and icons of free speech head the pack in the names put forward for this year's Nobel Peace Prize, with jailed Saudi blogger Raef Badawi and fugitive US intelligence analyst Edward Snowden among those receiving nominations.
"This year again one can see the candidates reflect the issues that dominated the news in recent months," Olav Njølstad, the Nobel Institute's new director, and also secretary of its awarding committee, told AFP.
While the official list of Nobel nominees remains a well-kept secret, those authorised to lodge nominations — members of parliament, past Nobel laureates, academics — can publicly announce their choices, fuelling speculation on the likely winners.
Norwegian member of parliament Michael Tetzschner, for instance, put up Danish editor Flemming Rose, who a decade before last month's slaughter of French cartoonists at Charlie Hebdo magazine triggered global protests over depictions of the Muslim prophet.
"Giving the prize to a consistent defender of freedom of expression, even at a personal cost, would give a sign that those who try to muzzle that freedom through cowardly attacks against civilians, thus undermining peace between peoples, cannot ever succeed," Tetzschner wrote in his letter to the Nobel committee, according to NTB news agency.
NOTE: Chances are high that the corrupted Nobel Academy will never seriously consider his nomination.