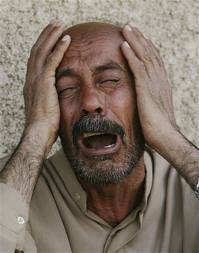 Bomb kills 1 in Egypt, 2 other bombs defused at airport
By
SARAH EL DEEB
1 hour ago
CAIRO (AP) — A roadside bomb near Egypt's second largest city Alexandria killed a bystander and injured two others on Tuesday, while authorities defused two more explosives at Cairo International Airport, officials said.
The latest reports are part of recent spike in small bombs being planted around Egypt. Many of the devices have been so-called flash-bang grenades, designed to sow panic but cause minimal damage or casualties. The larger and deadlier bombs have been targeted almost exclusively at members of the Egyptian police and army.
There are rarely individual claims of responsibility, but Islamic militant groups have vowed to target police and military troops to avenge their crackdown on Islamists in the wake of the ouster of Islamist President Mohammed Morsi in 2013.
Reflecting the increased public fear and awareness, a popular smartphone application designed to provide information on traffic jams started a new service last week titled "Where is the bomb" to alert commuters of reports of roadside explosives.
Bombs in northwest Pakistan target police, kill 6 officers
PESHAWAR, Pakistan (AP) — Two roadside bombings targeted Pakistani police in the country's restive northwest on Tuesday, killing six officers. The Taliban claimed responsibility for both attacks.
The first bombing took place in Mansehra district and killed two policemen, local police chief Ijaz Khan said.
Hours later, a roadside bomb struck a vehicle carrying police officers from the Bomb Disposal Unit in the northwestern town of Kurram, killing four of them, according to local officer Naeem Khan said. Kurram is located about 200 kilometers (120 miles) west of Peshawar, the main city in the country's northwest.
File photo
New fighting near Libyan oil port as U.N. seeks to restart talks
TRIPOLI (Reuters) – New clashes erupted on Tuesday between Libyan rival factions fighting for control of the country's biggest oil port Es Sider, killing several people, both sides said.
The fighting came a day after the United Nations said it was seeking a ceasefire to pave the way for a new round of peace talks between rival factions operating two opposing governments, nearly four years after Muammar Gaddafi's overthrow.
Libya's internationally recognized government under Prime Minister Abdullah al-Thinni and the elected House of Representatives have been based in the east since a group called Libya Dawn seized Tripoli last summer, set up its own administration and reinstated the old parliament.