Obama hates Netanyahu, how much more proof do we need?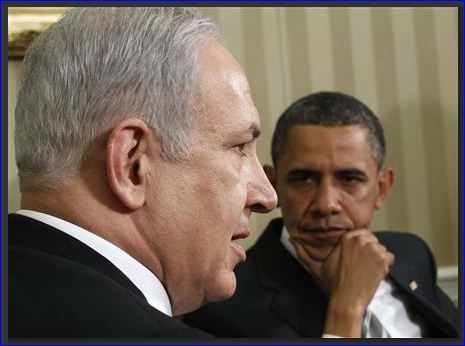 Story that Boehner blindsided Obama on Netanyahu invitation was manufactured agitprop
A correction appearing in the New York Times quietly unravels what has become a major story as phony agitprop, intended to discredit the leaders of Israel and the House of Representatives.  Of course, the story is still believed by many, and has well served those in the White House and media who created and disseminated it. Omri Ceren spotted the correction and explained on Twitter:
 NYT tries to promote anti-Netanyahu talking point that #Israel blindsided Obama. They got just 1 tiny detail wrong.

http://www.nytimes.com/2015/01/30/us/politics/benjamin-netanyahu-is-talking-to-harry-reid-and-leading-democrats-to-little-effect-so-far.html?partner=rss&emc=rss&_r=2

Correction: January 30, 2015 

An earlier version of this article misstated when Prime Minister Benjamin Netanyahu of Israel accepted Speaker John A. Boehner's invitation to address Congress. He accepted after the administration had been informed of the invitation, not before.
In 2011, Boehner sent a notice to the WH stating his intention to invite Netanyahu to speak before a joint session of Congress. The White House never responded (spite? incompetence?) and Boehner proceeded to extend the invitation to Netanyahu. Netanyahu accepted the invitation and spoke. The White House did not express any outrage in 2011. That was before the 2012 reelection, of course, so Obama did not want to run the risk of losing any support.
But that was then and this is now. And as Barack Obama has reminded us, he will never be on a ballot again so he can do whatever he wants now and go "full Bulworth," as he told close aides he wanted to do in his second term.
Boehner clearly assumed the same series of events was occurring when the White House failed to respond this time to the notice given to the White House before he sent an invite to Netanyahu.  (Hat Tip: CJL and LR).
The White House deliberately created this "crisis" to impugn Netanyahu and undercut support for him and Israel. No less than Senator Harry Reidblamed this diplomatic faux paus entirely on Boehner and Netanyahu for undercutting support for Israel among Democrats . The media, or much of it, has been relentlessly attacking Israel over a lie promoted by people in the administration.