Yet another "shmoderate" Muslim showing some ankle.
Yeah, the French, who (stupidly) opened their doors to these Muslims, are now to drive a stake into their national identity, committing a full hari kari for the sake of appeasing these Muslims who refuse to accept the modern liberal societal norms that they freely migrated to.
NOTE: Muslims seek to impose the same disastrous system that they left, It would be like soviet dissidents seeking to impose communism upon the US which offered them sanctuary, and demanding that it appease their efforts in the name of 'diversity', or else.
SHADI HAMID: "What presumably would take more moral courage, at least in France, is for a major political party to call for a rethinking of laïcité, and for broadening, rather than narrowing, French national identity."
More here if you can bear it.  A barf bucket nearby is advisable.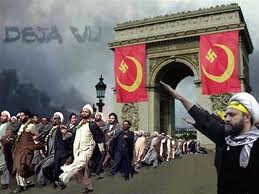 H/T: PB