This is what the U.S. does to anti-American regimes, not allies.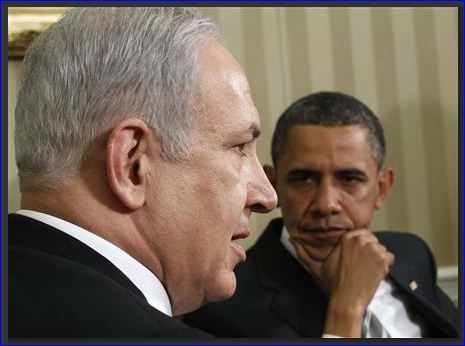 Finally, there is another source of information about the kinds of bedfellows the V15/OneVoice/PeaceWorks Network keeps. It is the listing it provides of its partners. Along with at least half a dozen "peace" organizations and even the UK Conservative Party, it has lots of questionable listings. Those include: Association of British Muslims, the Christian Muslim Forum, the Rockefeller Brothers Fund, the New Israel Fund, Yachad (the "British J Street"), Labour Friends of Palestine & the Middle East, the UK Labour Party and Labour Friends of Israel.

(Lori Lowenthal Marcus,  Jewish Press)
State Department-Funded Group Bankrolling Anti-Bibi Campaign
OneVoice International aiding anti-Netanyahu V15
BY: Alana Goodman

A U.S. State Department-funded group is financing an Israeli campaign to oust Prime Minister Benjamin Netanyahu, and has hired former Obama aides to help with its grassroots organizing efforts.
U.S.-based activist group OneVoice International has partnered with V15, an "independent grassroots movement" in Israel that is actively opposing Netanyahu's party in the upcoming elections, Ha'aretz reported on Monday. Former national field director for President Obama's 2012 reelection campaign Jeremy Bird is also reportedly involved in the effort.
OneVoice development and grants officer Christina Taler said the group would be working with V15 on voter registration and get-out-the-vote efforts but would not engage in overtly partisan activities. She said OneVoice and V15 are still formalizing the partnership.
While V15 has not endorsed any particular candidates, it is working to oppose Netanyahu in the March elections.