One round of applause for that gesture.
It's a great move, but I'm not standing in ovation. She actually wore a hijab while visiting a mosque, something which no non-Muslim should ever do, (taking one's shoes off is enough) because in doing so, it leaves the realm of showing 'respect' and into the realm of observance/submission.
Michelle Obama navigates limits on women in Saudi Arabia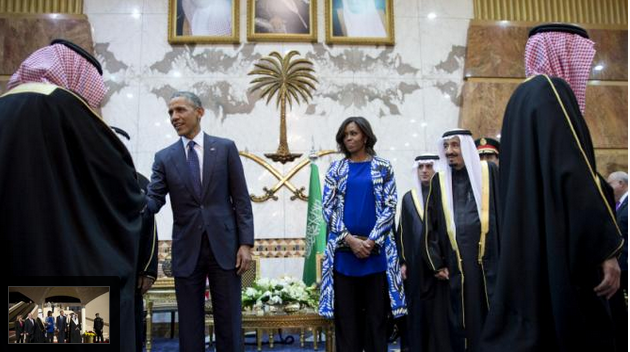 RIYADH, Saudi Arabia (AP) — For first lady Michelle Obama, just a few hours in Saudi Arabia were enough to illustrate the stark limitations under which Saudi women live.
Joining President Barack Obama for a condolence visit after the death of the King Abdullah, Mrs. Obama stepped off of Air Force One wearing long pants and a long, brightly colored jacket — but no headscarf.
Under the kingdom's strict dress code for women, Saudi females are required to wear a headscarf and loose, black robes in public. Most women in Saudi Arabia cover their hair and face with a veil known as the niqab. But covering one's head is not required for foreigners, and some Western women choose to forego the headscarf while in Saudi Arabia.
As a delegation of dozens of Saudi officials — all men — greeted the Obamas in Riyadh, some shook hands with Mrs. Obama. Others avoided a handshake but acknowledged the first lady with a nod as they passed by.