Really, really sick bastards.
I question the sanity (let akone the morality) of any westerner who pimps for these people to the detriment of the Jewish state of Israel.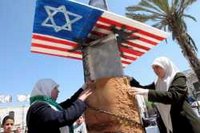 Palestinian cartoons praise Tel Aviv stabbing attack
Only an hour after it ended, Palestinian media was already praising the Tel Aviv bus stabbing that injured nine with cheerful cartoons.