That's the truth!
Gentiloni "significant risk of infiltration of terrorists from immigration"
 Thursday, 22 January, 2015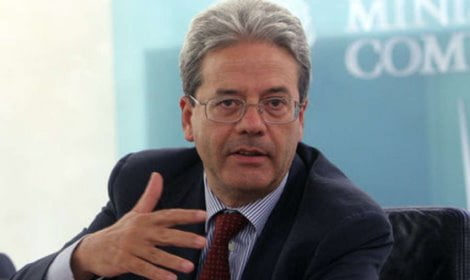 "There are risks of infiltration even substantial immigration of terrorists. Luckily our security apparatus are alerted and they work, but this does not allow us to lower the slightest degree of concern. But no democratic country can endorse any confusion between migration and terrorism and spread the idea that behind the boats of desperate people who arrive on our shores there lurks the terrorist with Kalashnikovs. It would be a mistake cultural as well as unlikely, from a technical standpoint. "
As for the jihadists in Italy, "certainly today the risks of infiltration are significant" and 'the warning of the Foreign Minister, Paolo Gentiloni, to London to attend the council restricted the international front against the threat of the Isis. The risk of infiltration linked to immigration, added the minister, and 'even' for the recall of the symbols of Christianity "in Italian".
In terms of contrast "fortunately the security apparatuses work," said Gentiloni meeting with journalists, "but this does not allow us to be complacent."
The minister also asked that, after the massacres in France there is "the revival of a commitment" in the fight against jihadists "even by the Muslim majority countries, as well their target of terrorism." "In the West," said the minister, "there is' a multiplication and a stronger commitment against these new forms of terrorism, a terrorism that is State, even with Al Qaeda and that comeback with Boko Haram that Nigeria does terrible things.Cosi 'is expected also from Islamic countries. " Gentiloni, assured that "at the time the Italian commitment" against Isis in Iraq and Syria "and 'considered adequate."
"We are the second country more 'important in training the forces fighting on the ground and to work as much on aerial reconnaissance." As for the Iraqi Kurdistan, "we have already 'important cooperation projects for 24 million euro," he added Gentiloni, "and we will make even more money.'" From the Minister and 'came the confirmation that "today the Council of Ministers will approve 'loans' aid for 2015. About a law regulating the presence of aid workers and others working in theaters of war, "we will evaluate if there are proposals."
The Minister has, however, 'and stated that' 'difficult to comment on hearing ", that of the director of Dis, Giampiero Massolo, Wednesday' to Copasir," which was to be paid. "During the hearing at Copasir had been hoped for new rules for anyone going abroad for missions in countries at war or particularly dangerous, especially in light of the case of the two young Italian aid workers kidnapped in July in Syria and released last week."This' also a problem of information and responsibility '," said Gentiloni the Minister, "but it' s clear that the Foreign Ministry is the situation well" of the various areas of the world.
Source: ImolaOggi.fi  H/T: Armando Manocchia
In Sweden the Sweden Democrats are saying and asking just that.