Boneheads, heal thyselves.
This is why Europe's leaders can review the empirical evidence on the devastating effect that Muslim immigration/asylum policies have on society, and still believe that all is well. They don't view the reward (politically) as being enough to alter their thinking, so there will be dissonance.
They will also believe in the things that they feel they'll have to suffer for, that is why the hypocritical Left, wearing its suffering like a badge of honor, and as a club to bludgeon its opposition with, has no problem supporting traditional Leftist causes and running defense for illiberal Islam.
NOTE: One only has to look at Sweden, and it's dildo-sharia* driven politics to see that kind of thinking in full bloom.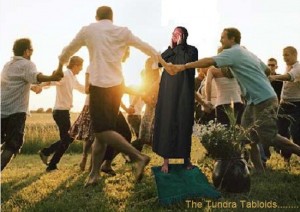 "Dr, Philip Zimbardo walks us though a lesson in Cognitive Dissonance. Dr. Leon Festinger's theory shows us the precursor to Justification of Effort."
H/T: Vlad
*Dildo-Sharia was coined by Fjordman