Outrageous.
Thankfully the parents are irate, and they should be, their daughters were forced to participate in a religious observance not of their own. Donning the head scarf is not a simple act of respect like a non-Jewish male wearing a yarmulke in a synagogue, the exact equivalent of what they forced these girls to do, would be fora non-Jew to don a full prayer shawl. Such a move crosses over from mere respect, to observance.
NOTE: It's so obvious that even the Queen of Sweden upon visiting an Islamic beachhead (mosque), did not have a scarf, in fact, she had some kind of slippers on her feet.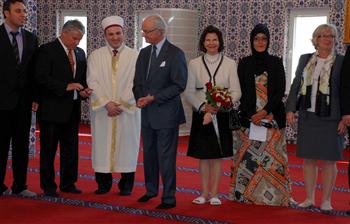 H/T: Jamie Glazov
U.S. Students FORCED To Wear Islamic Garb On School Outing, Parents IRATE
A Colorado school district has come under fire from parents in the community when a local middle school told girls that they will have to submit to sharia-compliant rules regarding covering their heads and ankles on a field trip to a Muslim mosque in Denver.
According to Western Journalism, the Douglas County School District, located just south of Denver county, informed students and parents that their daughters must abide by an imposed dress code for the world religions field trip taking place Tuesday, January 13. "All students must wear appropriate long pants. Ankles must be covered. Girls must bring wide scarves or hooded sweatshirts for the mosque," the notice read.
An outraged parent contacted local media outlets to report the forced dress requirement, all of whom allegedly refused to cover the story except for one right-wing radio broadcaster out of Denver, Peter Boyles of KNUS 710. Boyles reached out to Principal Mike Loitz at Rocky Heights Middle School — the school imposing the dress requirements on female students — and Loitz confirmed in the interview on January 6 that they did ask students to comply.