Yet more Muslims are piling in.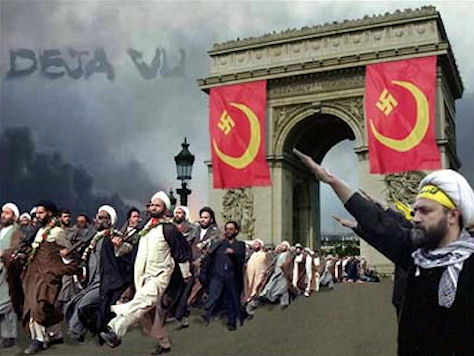 'Every single French Jew I know has left Paris': Editor of Britain's Jewish Chronicle claims people are fleeing terror-hit French capital 
Stephen Pollard says terror attack on Kosher store in Paris is no 'fluke'
'Every single French Jew I know has either left or is actively working out how to leave', he said
Experts believe that more than 100,000 French Jews have left since 2013  
France's Chief Rabbi has said after a number of attacks on Jews in the past year: 'Jews murdered were targeted specifically because they were Jewish'
Policing stepped up across British Jewish areas, community body says 
Mayor's office has announced closure of shops in famous Jewish area
Jews are fleeing terror-hit Paris because of growing anti-Semitism in France, one of Britain's most influential Jewish journalists said today.
Stephen Pollard, editor of the Jewish Chronicle, spoke out after an Islamic terrorist took six people hostage and held them captive in a Kosher supermarket in the French capital.
This afternoon police ordered all shops in a famous Jewish neighborhood in central Paris to close.
The mayor's office in Paris announced the closure of shops along the Rosiers street in Paris' Marais neighborhood, in the heart of the tourist district and less than a mile away from the offices of satirical magazine Charlie Hebdo where 12 people were killed on Wednesday.
Hours before the Jewish Sabbath, the street is usually crowded with French Jews and tourists alike.
Mr Pollard said today's terror attack in Paris, linked to the massacre at the office of Charlie Hebdo, will force more French Jews to flee the country.
Many are moving to Britain or to Israel, according to a report published in the newspaper last year.
He said the fact that a terrorist had chosen to target a Jewish store was no 'fluke'.
In a series of tweets he said: 'Every single French Jew I know has either left or is actively working out how to leave'.