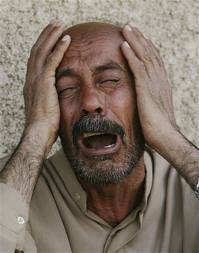 30 killed, 50 injured in car bomb blast at Yemen police academy
Published time: January 07, 2015 05:10
Edited time: January 07, 2015 07:04

About 30 people were killed and more than 50 injured in an explosion outside a police college in Yemen's capital Sanaa, police say.
It was a car bomb that exploded near the college, presumably targeting a group of students standing by the building.
The blast was heard across the city and it resulted in a fire, witnesses told Reuters.
Photographs of what appears to be the aftermath of the blast, have been posted on social media. They show the wreckage of the vehicle and bloodied bodies lying on the pavement.
Witnesses said they could see ambulances taking the wounded away from the scene of the blast.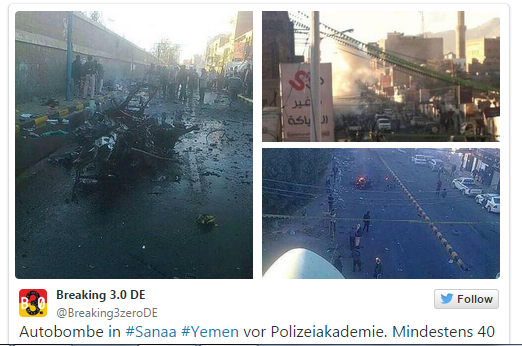 Three Egyptian police officers killed
Two officers shot dead at church while another is killed trying to defuse a bomb outside petrol station in Cairo.
A police officer was killed while trying to defuse a bomb outside a petrol station in Cairo [AFP]
Two Egyptian policemen guarding a Coptic Christian church in Cairo have been shot dead, witnesses and a local security source said.
Sources said the policemen were killed on Tuesday as they stood guard at the church.
Another policeman was killed while trying to defuse a bomb outside a petrol station in Cairo, police said.
Egypt's Coptic Christmas falls on Wednesday and security is typically tightened at churches ahead of the holiday after a string of attacks on Christian targets over the past years.
Interior Ministry spokesman Hany Abdel Latif was quoted by state newspaper Al-Ahram as saying the attack in Minya was not sectarian.
"[It] has nothing to do with any of the holidays of our Coptic brothers, it is instead aimed at the security forces, to try to undermine their resolve," Latif said.
Libyan Air Force Plane Bombs Tanker, Killing Two

Greek-Managed Vessel Attacked in Apparent Case of Mistaken Identity
Two crewmen on board a Greek-managed tanker were killed after a Libyan Air Force plane bombed the vessel in a Libyan port in an apparent case of mistaken identity, Greek and Libyan officials said Monday.
The vessel, the Liberian-flagged Araevo, was "bombed immediately as it approached" Derna in the east of the country, an aide to the chief of staff of the Libyan Air Force said.
The airstrike on Sunday killed a 29-year-old Greek cadet engineer and a 23-year-old Romanian seaman. Two other seamen, both Philippine nationals, were also injured. One was taken to hospital for emergency surgery. He is in a critical but stable condition.
The vessel was under long-term charter by the National Oil Co. of Libya to carry fuel from various points along the Libyan coast to feed local power plants. It had been operating exclusively in Libyan waters for the past eight years.
A military spokesman for Libya's internationally recognized government told the Associated Press a fighter jet bombed the ship because it had no prior clearance to enter an eastern port and acted "suspiciously."
Kashmir: Civilians flee as border fighting continues
Thousands of villagers have fled their homes in Indian-administered Kashmir as Indian and Pakistani troops continue to exchange fire in the region.
At least 10 Indian and Pakistani soldiers and civilians have been killed in the violence over the past week.
Both sides have accused each other of starting the hostilities.
A ceasefire agreed in 2003 remains in place, but the neighbours often accuse each other of violating it.
The latest round of hostilities come days before US Secretary of State John Kerry is due to visit India. President Barack Obama is also due to visit India as the chief guest at the country's Republic Day celebrations on 26 January.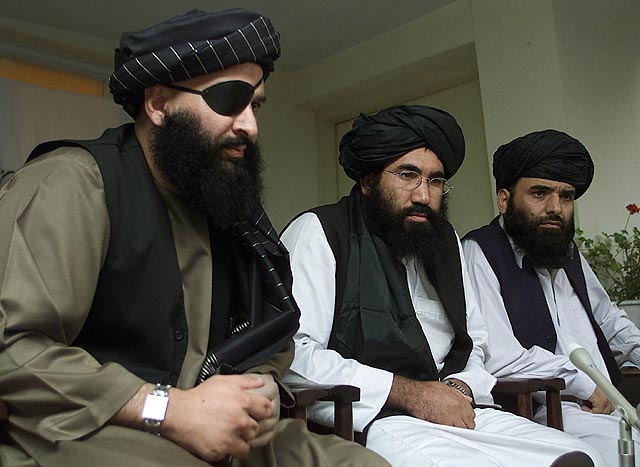 Taliban Chief Behind Pakistan School Massacre Promises More Attacks
BY MUSHTAQ YUSUFZAI
PESHAWAR, Pakistan — The head of the group behind last month's horrific Pakistani school massacre that left 153 dead said the militants would strike again if the government continued to target its members and their families. "You will forget the Peshawar school attack when you face more deadly attacks," Maulana Fazlullah, the head of Pakistan's Taliban-Tehrik-e-Taliban Pakistan (TTP), said in a 12-minute online video statement that came to light Tuesday.
He said that militant attacks would continue if what he termed "detention and house arrest of their women and (the) torture-to-death of their jailed fighters" did not stop. Instead of saying the group regretted the slaughter of scores of innocent schoolchildren in Peshawar's Army Public School on Dec. 16, Fazlullah threatened to target more children of military officials.