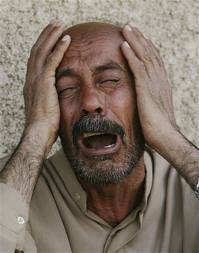 Several areas in Tikrit resorted in the biggest military operation
Shafaq News / Samarra operations began by Iraqi military support a wide operation with Shiite volunteers on Saturday, to liberate several areas south of Tikrit.
Two brigades have arrived from the army and volunteers on Friday as those forces made their way across al-Atheem River on Diyala province side , northeast of Dhuluiya.
Those forces have freed during the early hours Albu Salebi village after dismantling 16 improvised explosive devices while the Army Air launched strikes on ISIS targets and destroyed two of their cars.
Tribes in Dhuluiya and local police are preparing to crack down ISIS from south of Dhuluiya.
Areas south of Tikrit (175 km south of Tikrit) extend from Samarra and Duluiya including Yathrib , al-Isehaqi and Balad sub-districts.
Three of the security forces were killed and 18 injured during the battles near Dhuluiya, according to medical officials.
Kurdish Imam killed in Tuz Khurmatu, causing public outrage
By RUDAW 18 hours ago
Photo: Protests in Tuz Khurmato following killing of Kurdish Imam, courtesy of @vagersedolla.
TUZ KHURMATU — A Kurdish Imam was shot dead on Saturday afternoon in the disputed town of Tuz Khurmatu, causing outrage among the local population.
Following the burial procession of Imam Salah Mullah Jamal, who leads congregational prayers at the Imam of Hussein Mala Wahab Mosque protests ensued.
Protesters accused armed Shiite militiamen in the town of orchestrating the killing, Rudaw's correspondent said.
Tuz Khurmatu, a town in Salahaddin province falls under Iraq's "disputed territories," which are claimed by the Iraqi government in Baghdad, and the autonomous Kurdistan region in the north.
Soldier killed, TV anchor kidnapped in Yemen
file photo
In recent months, Hadhramaut has been the scene of repeated attacks that the government typically blames on the Ansar al-Sharia militant group.
World Bulletin/News Desk
A Yemeni solider was killed and another injured in a bomb blast in the southern Hadhramaut province on Saturday, a local official has said.
"An army soldier was killed and another injured when an explosive device went off near an army patrol in Hadhramaut's Al-Qatn district," the official, who requested anonymity, told The Anadolu Agency.
There has been no claim of responsibility for the attack, but the official pointed the finger at what he described as "terrorist elements".
Yemeni authorities have yet to comment on the attack.
Gunmen Kill Policeman in Egypt
Gunmen on a motorcycle shot and killed an Egyptian policeman and wounded a second who were guarding banks in a busy commercial district of the capital Cairo on Saturday, Egypt's state news agency said.
No one has claimed responsibility for the attack which took place at daybreak in the usually busy Sphinx Square, across the Nile from downtown Cairo. Ansar Beit al-Maqdis, an extremist outfit allied with the Islamic State group, has claimed responsibility for a string of similar attacks against police and soldiers, mainly in the restive northern Sinai province.
Authorities are on high alert during the holiday season, with reinforcements deployed in the capital and around hotels and churches. Militant attacks have been on the rise since the military ousted Islamist President Mohammed Morsi last year following mass protests against his yearlong rule.
Last year the government declared Morsi's Muslim Brotherhood a terrorist group. The Brotherhood has condemned the militant attacks and insists it is committed to peaceful protests demanding Morsi's reinstatement.
Morsi and many of the group's top leaders were arrested following his overthrow and are now being tried on a wide array of charges, some of which are punishable by death.
Libya militants kill at least 22 soldiers in failed attempt to seize oil terminal

Fighters belonging to the Fajr Libya, or Libya Dawn, reportedly launched attack on al-Sidra port, firing rockets from speedboatsAgence France-Presse in Benghazi
Islamists have killed at least 22 soldiers in a surprise attack using speedboats during a failed offensive to seize some of Libya's main oil terminals, officials said.
The fighting in the oil-rich region came as pro-government forces lost ground to Islamist militias in the eastern city of Benghazi, where jihadis beheaded six people and killed 14 others, military officials said.
The militiamen belonging to the Fajr Libya, or Libya Dawn, launched the attack on al-Sidra port by firing rockets from speedboats, setting an oil tank on fire, security sources said.
Syria barrel bombs 'kill dozens in Islamic State areas'
Syrian planes and helicopters have dropped barrel bombs on Islamic State-held areas in the north-east, killing some 40 people, activists say.
The barrel-bombs, crudely made drums of explosives, were dropped during Thursday and overnight, targeting al-Bab and Qabaseen near Aleppo.
Activists say the government has stepped up air raids in recent days.
Some 200,000 people have been killed since the uprising against President Bashar al-Assad erupted in 2011.
Another 3.2 million people have fled Syria and 7.6 million have been displaced inside the country.
Al-Bab, a city of about 100,000 people, has witnessed heavy government air strikes since September, when a US-led coalition started targeting IS in Iraq and Syria.
Airstrikes against Islamic State top $1bn, kill over 1,100 people
Published time: December 26, 2014 20:59
US and coalition airstrikes against the Islamic State in Syria have killed nearly 1,200 people ‒ including 52 civilians ‒ and wounded at least 800 others at a cost of more than $1 billion since the bombings began in September.
The Syrian Observatory for Human Rights (SOHR) said Thursday that airstrikes in Syria over the last three months have killed 1,046 fighters from the Islamic State – most of whom were non-Syrian fighters.
An additional 72 jihadists from Jabhat al-Nusra, a rival group, were killed in bombing raids against their headquarters in the western countryside of Aleppo and the northern countryside of Idlib.
Of the 52 dead civilians, eight were women and five were children. They died during coalition airstrikes on oil fields and refineries in the al-Hasakah and Der-Ezzor countrysides, as well as al-Raqqa, Menbej – located northeast of Aleppo – and the Idlib countryside.