Multiculturalism up front and in the raw.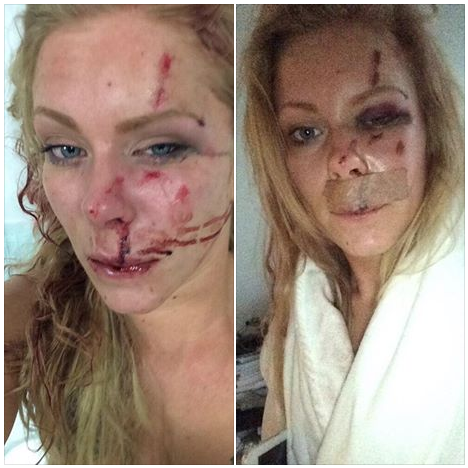 On Christmas Eve, in the Vesterbro district of Copenhagen, a group of teenaged culture-enrichers set upon a young Danish couple and beat them severely for no apparent reason. The young woman, Nanna Skovman, suffered serious damage to her face and head.
She decided to post the story of what happened on Facebook, and from there it made it into the newspapers and Internet news sites. The story is currently "most read" on both of the main tabloids BT and Ekstra Bladet, as well as on the TV2 news site.
Below is the Facebook entry on which the news stories are based. Many thanks to Haensel Klein for the translation:
Christmas Eve. The day which has joy, roast pork and presents at the centre. But that wasn't to be for me and Mads. I'd like to tell you how our Christmas was turned into a nightmare.

After getting out of a taxi, we're walking along our street when a young second-generation immigrant approaches us. He is very unappealing and clearly wants conflict. Without any reason at all, he hits Mads on the head with a bottle. Mads defends himself, but now two or three more second-generation immigrants come running towards us along with a Somali. They are coming out of the basement of a building carrying the kind of chain locks used for scooters and motorcycles. The are attacking Mads together, kicking him and hitting him with the chains. Mads screams that I must run away.

In the end they get him down on the ground, and at this point I start panicking. I believe they are really going to kill him. So, I jump in and try to drag Mads away. I shouldn't have done that… This little creepy, cowardly boy who started it all pushes me head first into the tarmac and begin to hit me in the back of the head repeatedly with an iron chain. Then everything turns black.

As I regain consciousness I find myself in a big pool of blood. My blood. And I can feel that there is something wrong with my face, something is in the wrong place, but I don't dare to look. Blood is running out of my mouth, from the back of my head and from other injuries.
More here. H/T: Jamie Glazov & Vlad