Like I keep stating, the "lone wolf" is but an al-Qaida tactic in a wider strategy for keeping the West off balance.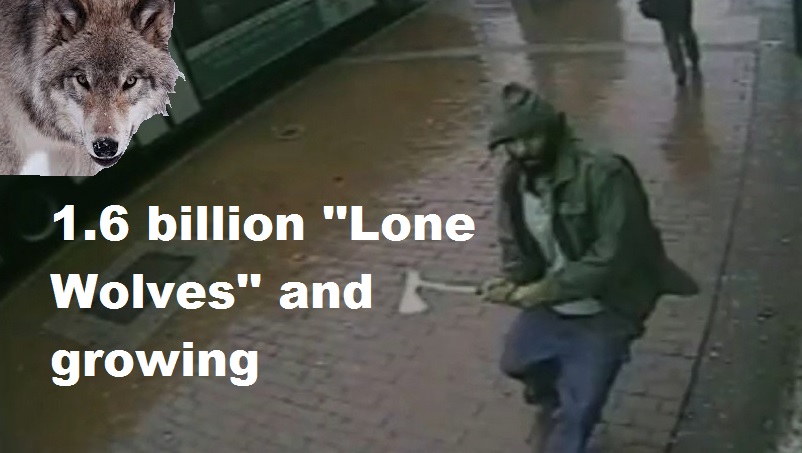 The media and political usage of the term is for all the wrong reasons, they seek to limit the connection to Islam itself, as well as to point out (wrongly) that such small scale attacks point to a diminishing of the terror group's tactical range and influence. It's quite the contrary as Lori Lowenthal Marcus pointed out last year in 2013.
WHO IS THE GRAND STRATEGIST OF MODERN GLOBAL JIHAD?

His name is Mustafa Setmariam Nasar, although he's also known as abu Musab al Suri (the Syrian).  Perhaps his most significant contributions to the cause of global jihad was his insistence that the old-style al Qaeda, with its rigid hierarchical structure, was a disaster for the movement and had to be jettisoned in favor of a different strategy.  In his 1600 page manifesto, al Suri stressed the need for the global jihadi movement to create a new fighting style focused on "individual terrorism."
So I ask my fellow Counterjihad colleagues to start describing these lone wolf attacks in the proper context with a strong focus on the role al-Qaida is placing on it.
The West should brace itself for more lone wolf terrorist attacks, an al-Qaeda official has warned in a magazine interview.
Gloating over a wave of recent atrocities, Sheikh Nasr Al Ansi said more were to come in an interview with a glossy Jihadist magazine, Inspire.
Slickly produced and chilling in its content, the magazine not only hails the work of the lone wolf, but also provides the recipe for another bomb which, it claims, will be undetectable at many airports.
Western intelligence experts have voiced fears at the threat posed by individual jihadists without obvious connections to Islamist militants.
Their fears appear to be well-founded, according to the interview.
"The Lions of Allah who are all over the globe, some call them lone wolves – should know they are the West's worst nightmare. So do not belittle your operations. Do not undermine your Jihad," Al Ansi tells the magazine.
"Because some deaths are caused by a thousand cuts. And a small blood clot paralyses the whole body."
He adds: "Allah the Almighty has facilitated for them capabilities that are absent to other Muslims: reaching the heart of the enemy's land and other targets."
Advice for the lone wolf ranges from how to produce a bomb to how to handle the publicity from the atrocity.