The long knives are out.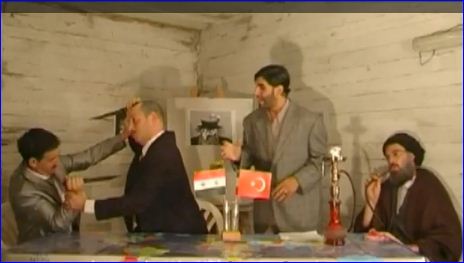 They're all Islamo-scum nutjobs anyway you slice them.
Turkey bolsters extremist ties amid Qatari overtures to moderate Sunni states

Turkey in recent days has faced renewed criticism for bolstering non-state Islamist actors, including those who seek to supplant traditional American allies across the region and who are committed to the eradication of Israel.
Reports over the weekend conveyed a shift in Qatari foreign policy, away from its traditional ally Ankara and toward Cairo and Riyadh, following several years of tensions. Hurriyet Daily News covered the rapprochements, noting that the overtures from Doha "diverg[ed] from an agreement with Turkey over opposition" to the Egyptian government of President Abdel Fattah el-Sisi, made two days earlier in Ankara. Hurriyet described Qatar and Turkey as "strong supporters of the Muslim Brotherhood movement" that "provided shelter for many Brotherhood leaders." Top members of the Brotherhood have reportedly grouped in Turkey, forming an executive committee in Istanbul to oppose Sisi's government.
Experts have for months warned of a growing group of Sunni extremists in Turkey – earlier this month Jonathan Schanzer and Grant Rumley, respectively the vice president for research and a research analyst at the Foundation for Defense of Democracies, noted the presence in the country of several top Hamas operatives, including Saleh al-Arouri, believed to be behind several Hamas plots, including the June kidnapping of three Israeli teenagers and a thwarted coup plot in the West Bank, and Imad al-Alami, who Schanzer and Rumley called a "founding father" of the terror group.
The region has in recent years been divided into three separate camps – an Sunni axis comprising Qatar, Turkey, the Muslim Brotherhood, and occasionally Hamas; a Shiite bloc anchored by Iran that includes the Assad regime in Syria and Iran's Hezbollah proxy; and a grouping of Washington's traditional Arab allies in the region and Israel – though Doha's rapprochement with Saudi Arabia and Egypt may signal a moderating of the Qatari position.