About time for some good news…….
Yazidis get relief, reason to cheer as Kurds take key town from ISIS
December 21, 2014 — Updated 0022 GMT (0822 HKT)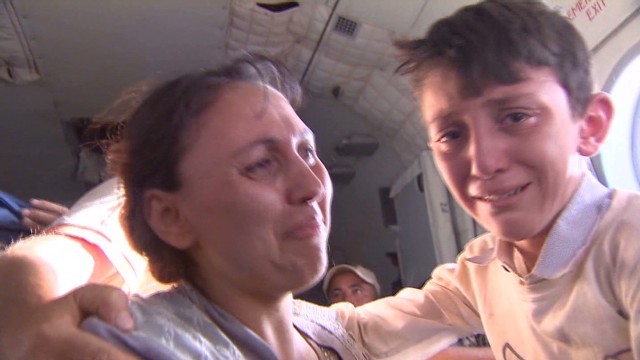 Dramatic rescue as Yazidis flee ISIS
STORY HIGHLIGHTS
NEW: Kurdish council says Peshmerga takes town of Sinjar, nearby villages
NEW: Morale is high, ISIS fighters are fleeing toward strongholds, council adds
This push comes against ISIS is part of a recent, coalition push in northern Iraq
32 truckloads of food, water, other aid head to those on Iraq's Sinjar Mountain
(CNN) — Kurdish Peshmerga fighters claimed to take control Saturday of Sinjar, the northern Iraqi town that ISIS militants stormed this summer causing minority Yazidis to flee into nearby mountains and spawning a humanitarian crisis.
The Kurdistan Region Security Council (KRSC) said on Twitter that its forces entered Sinjar district around 1:45 p.m.(9:45 a.m. ET) and, just over an hour later, "succeeded in taking complete control of it & nearby villages." The message ended "#Shingal #Kurds." Shingal is another name for Sinjar.
The advance is the latest in recent days by Kurdish forces against ISIS, which has been blamed for atrocities around the area for its treatment of those by any who resist or don't subscribe to its extremist Islamist beliefs.
And few, if any, have gotten worse treatment than the Yazidis — one of the world's smallest and oldest monotheistic religious minority groups. Yazidis, most of whom are ethnic Kurds, revere an angel figure that some Muslims believe to be the devil.