The EU (European democratic despotism) has given in to the Palestinianization of the UN and other international bodies.
Founded upon the Belgian model, the EU could not be anything else than a fraudulent, broken enterprise that seeks to impose its will on others.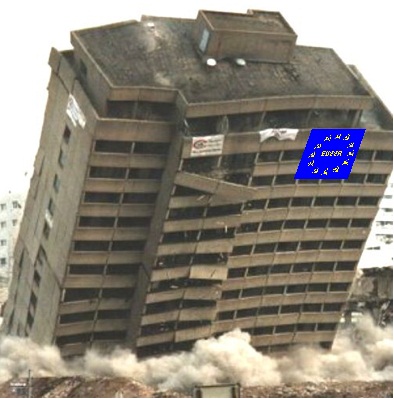 The failure of the EU to dedicate serious resources to the independent collection of data and analysis is endemic across many issues. Many of the EU's policies regarding Israel and the conflict are made by cutting and pasting the publications and tracts of political advocacy groups, including on such complex and sensitive isues as Jerusalem, borders, human rights, Bedoiun land claims in the Negev, and the status of other Israeli minority groups. The claims of these groups, in turn, are usually based on hearsay ("Palestinian eyewitness testimony), and, as in the case of the Hamas decision in 2001, media reports and "the internet".
The EU's Hamas fiasco exposes broken system
December 18, 2014, 10:47 pm
The ruling of the European General Court to strike down the inclusion of Hamas and in the European Union's list of terror organizations, was, we are told, due to a minor technical problem, and readily corrected. According to the court, the original decision in 2003 was not based on a careful study of the evidence, such as bus bombings and other acts of mass murder conducted by the Palestinian group. Rather, the EU Court ruled that "the contested measures are based not on acts examined and confirmed in decisions of competent authorities but on factual imputations derived from the press and the Internet."
However, far from a minor and irrelevant technical glitch, as claimed by EU officials, the Hamas court case provided a long overdue window into the systematic failures of European Union's foreign policy decision making, particularly regarding complex Israeli-Arab issues. Even a cursory examination of these EU policies exposes the degree to which slogans and myths, as repeated by journalists and officials of non-govermental organizations (NGOs), form the basis for decisions on crucial issues of war and peace. And the NGO input is, in turn, recycled through ready to print press releases, and quoted by the government officials. The result is an EU echo chamber, easily manipulated and cut off from the real world.
For example, last year, the foreign ministers of the EU, acting upon recommendations from their delegates in Brussels, and led by officials of the European Union External Action Service with their own agendas, adopted a policy of "guidelines" or a form of economic sanctions on Israel. This is part of a wider campaign to force israel back to the 1949 cease fire lines (mistakenly labeled the "pre-1967 borders"), and, in theory, impose an agreement without any change in the Palestinian narrative and incitement.