Died while saving others from the jihad.
Faces of the Sydney siege hero victims: Young barrister and mother-of-three died after 'shielding pregnant friend' from gunfire and the café manager, 34, shot dead as he tried to grab terrorist's gun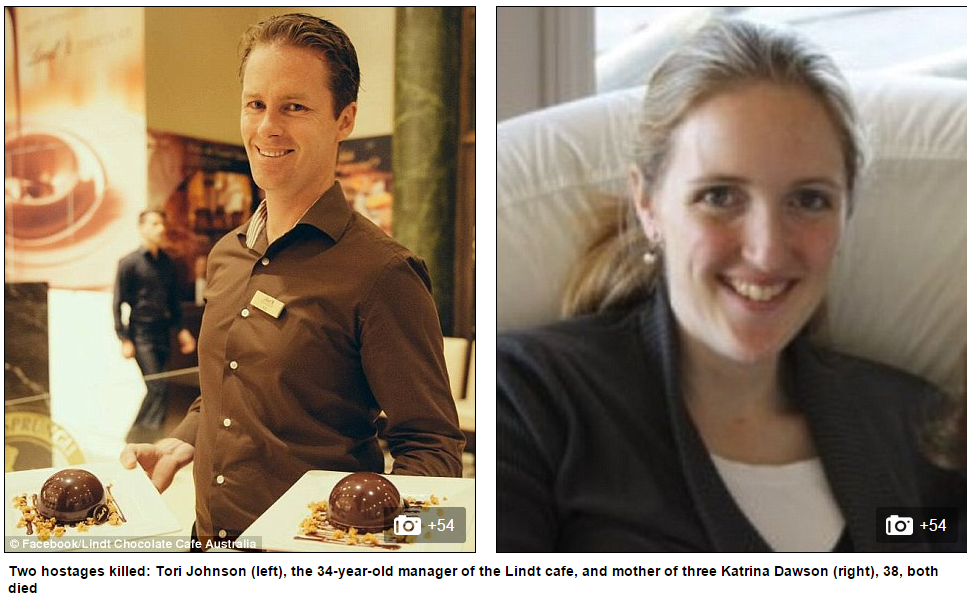 Tori Johnson, 34, and Katrina Dawson, 38, were killed during a terrorist siege at Sydney's Lindt cafe on Monday
Mr Johnson, the cafe manager of two years, tried to wrestle the gun from the hostage-taker before he was shot
Police stormed building with automatic weapons and grenades where gunman had held hostages for 16 hours
Australia's Prime Minister Tony Abbott says Islamic extremist Man Haron Monis was not on terrorism watchlist
20-year-old university student who became terrified face of the siege had started work 45 minutes before siege
Lawyer who is 19 weeks pregnant survived siege only to discover her friend and colleague was killed
Siege survivor tells how hostages were forced to make chilling extremist propaganda videos from inside cafe 
Police raid home of the terrorist's partner in Sydney as questions are raised about why he was free on bail
Monis forced several hostages to record chilling video messages uploaded to YouTube before attack ended
A barrister who died in Sydney's terrorist siege was today hailed a hero after it was claimed she was killed shielding a pregnant friend from gunfire.
Mother-of-three Katrina Dawson and Tori Johnson, the manager of the Lindt cafe in Martin Place, were the two hostages killed in the bloody climax.
Mrs Dawson, 38, whose children are all under ten, was a barrister in Sydney's central business district opposite the siege site and died of a heart attack. 
She had been getting coffee with pregnant Julie Taylor when Man Haron Monis entered the building – and later admirably shielded her friend from bullets.
It was not clear whether Mrs Dawson was shot or what other injuries, if any, she sustained in the shocking incident.
Mr Johnson, 34, was shot dead after he tried to wrestle the gun from 'hate sheikh' Monis inside the cafe just after 2am on Tuesday.
Archbishop Anthony Fisher spoke at a prayer service later on Tuesday of how the two victims were 'willing to lay down their lives so others might live'.
Today, as police began a wide-ranging probe into the events, Australia's Prime Minister Tony Abbott said the gunman was not on a terrorism watch list.
Mr Abbott questioned why 'someone who has had such a long and chequered history' was allowed to be 'entirely at large in the community'.
Monis was on bail on a charge of colluding with his partner, Amirah Droudis, to murder a woman – and on bail for more than 40 sexual assault charges.
The known hate preacher had been facing charges for allegedly sexually abusing a woman while advertising himself as a 'spiritual healer'.