Daily Mail:
Hostages run for their lives: Three men and two women ESCAPE from Sydney cafe where dozens are being held by a Muslim extremist armed with a shotgun, machete and suspected bomb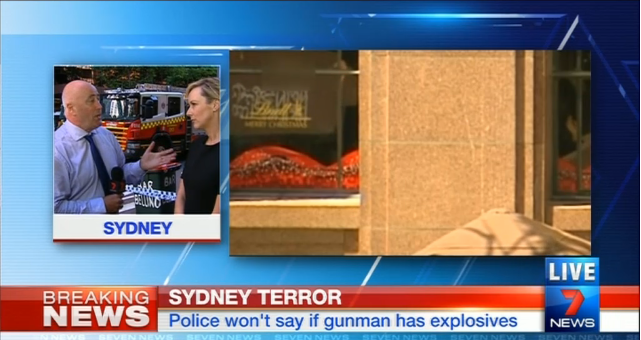 BREAKING: Hostages are being forced to hold an ISIS flag at a Lindt cafe in Sydney's Martin Place, as police man the doors outside #7NEWS
Sydney siege: Hostages held at Martin Place cafe
Updated December 15, 2014 10:25:16
A police operation is underway in the heart of Sydney's CBD.
Police have not confirmed the nature of the operation, but members of the public have been seen with their hands pressed up against the windows of a building.
An Islamic flag has also been seen in the window.
Witnesses have reported hearing loud bangs that sounded like gun shots.
One block of Martin Place has been cordoned off between Elizabeth Street and Phillip Street.
Dozens of police cars are at the scene and one police officer has drawn his gun.
Police have urged members of the public to avoid the area.
Daily Mail article continues here:
A young female employee came running out of the Lindt cafe shortly before 5pm and was sheltered by waiting police
A young female employee came running out of the Lindt cafe shortly before 5pm and was sheltered by waiting police
Another distraught female worker ran hysterically from the shop before taking cover with police
A total of five hostages have now escaped Lindt cafe – it's believed they escaped and were not released
One of the young female employees was visibly upset as she grabbed hold of armed police
The fifth hostage to escape from the cafe ran with her hands in the air towards officers
The distraught woman was helped by police to cower in a covered area following her escape
Two terrified men were spotted fleeing the Lindt cafe in Martin Place shortly before 3.45pm
Two men, believed to be customers, ran around a corner and hid behind heavily armed police after six hours inside the cafe
A male employee wearing an apron frantically ran out of a side fire exit and hid behind police
The three men are believed to have escaped from the cafe after six hours rather than released
It is not known how many hostages are still inside the Lindt cafe