And then there are these losers……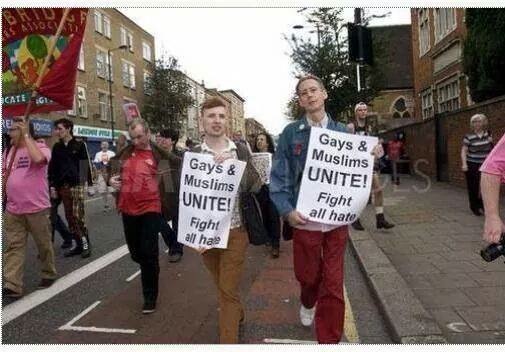 Remember when Hamas defeated Fatah in their takeover of Gaza, and tossed captured Fatah members off of tall buildings? Well they were making a statement to the public at large, that the Fatah were effeminate (homosexuals) losers. This is what Islam is, and anyone telling you differently is merely taking you for a fool.
ISIS jihadists say gay thrown off rooftop
FBI image of an English-speaking individual, who was seen in a propaganda video released in September of 2014 by the group calling itself the Islamic State of Iraq and the Levant, or ISIL. (FBI, AFP)
Beirut – The Islamic State group in Iraq and Syria on Tuesday posted photographs appearing to show jihadists throw a "gay" off a rooftop and then stoning him to death.
"The Islamic court in Wilayet al-Furat decided that a man who has practised sodomy must be thrown off the highest point in the city, and then stoned to death," read a statement accompanying the images.
Wilayet al-Furat refers to an area stretching across the Syrian-Iraqi frontier, where the Euphrates flows from Syria into Iraq at the Albu Kamal-Qaim border crossing.
One image shows a man whom the jihadists claimed was gay being hurled off a building at an unspecified location in Syria or Iraq. The next shows the man lying on the ground.
More here. H/T: Zip