Suspect was a black male……said "kill the Jews".
Gee, he really didn't want to drop that knife
Police Shoot, Kill Stabbing Suspect at Brooklyn Jewish Center: NYPD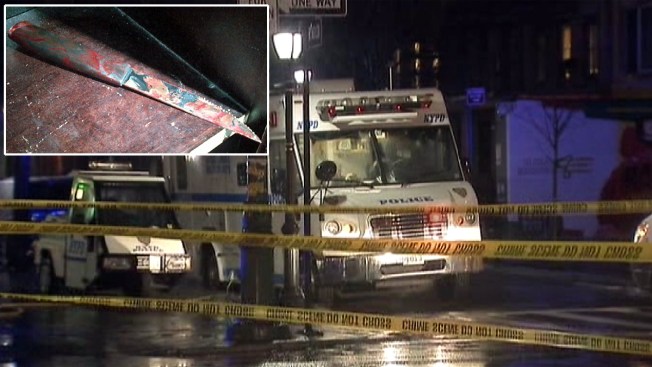 Tuesday, Dec 9, 2014 • Updated at 10:54 AM EST
Police shot and killed a man they say stabbed an Israeli student in the neck at a Jewish center in Brooklyn and then lunged at officers with a knife, according to the NYPD.
The man, 49, went into the Chabad-Lubavitch world headquarters in Crown Heights at about 1:40 a.m. Tuesday, allegedly yelled that he would kill Jewish people and then attacked 22-year-old Levi Rosenblat, police and a spokesman for the center say.
Several other people were inside at the time of the stabbing and intervened.
Video captured by Anachinfos.net, a Chabad-Lubavitch French-language website, shows the man holding the knife as several people try to convince him to put the weapon down. The man asks a few of them, "Do you want me to kill you?", and an officer who had been flagged down outside the center is seen arriving at the scene with his handgun drawn.
The bystanders then ask the officer and man both to put their weapons down, while the officer repeatedly orders the suspect to drop the knife. The suspect asks the officer, "Are you cool?" and,"Do you want me to kill someone in here, yes or no" before putting the weapon on a table.
The officer then asks the suspect to put his hands up and the man lunges back to the table and grabs the knife. Several other officers are then seen surrounding the men, all with weapons drawn, and the person shooting the video runs behind a divider as a gunshot is heard off-camera.
More here. H/T: Vlad