I have a problem with an organization named after a muslim convert who was anything but radical, meaning a basic Islam 101 caliphate lover.
GOV: Dr. Bostom includes this introductory note:
Quilliam protested Britain's response to the bloody Mahdist jihad in the Sudan, admonishing Muslims (on March 24, 1896; cited here, p. 341) that any support whatsoever of "infidel" British soldiers was "contrary to the Sharia." A month later (on April 20, 1896; cited here, pp. 173-4) Quilliam made plain his own aggressive, Pan-Islamic Caliphate dreams, denying national boundaries, "Among Muslims none should be known as Turks, Arabs, Kurds, Ajem, Afghans, Indians or English. They are all Muslims," and proclaiming, "under the standard of the Khalifate [Caliphate], let us unite there, one and all, and at once!"
The Finnish Security Intelligence Service (Supo) concedes that per capita the number of radical Muslim recruits from Finland fighting in Syria is high, but denies that radicalisation is a special problem here or in the rest of the Nordic region.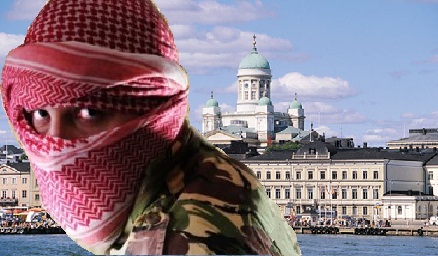 Finland, Scandinavia falling short in fight against radicalisation, expert says
The Nordics are one of the biggest problem areas for radicalisation in Europe, according to a counter-radical Islamic expert from the Quillium Foundation.
The Islamic State (IS), an extremist group based in Syria and Iraq which declared a "caliphate" or Islamic State in the region, boasts of home grown recruits from many corners of the world.
The most highly visible Western recruits – often seen in violent propaganda video clips on the internet – seem on the whole, to come from the UK.
The sheer number of IS recruits from the UK is higher than from Finland. Haras Rafiq, managing director of the British counter-extremism think tank Quilliam Foundation said that per capita, there are three times more IS recruits coming from Finland.
Today there are about 2.8 million Muslims in the UK, with about 500 of them known to have joined the IS. In Finland, there are some 60,000 Muslims, of which approximately 40 have joined the IS in Syria and Iraq.
"[Finland] is one of the biggest problem areas in Europe," Rafiq said. "In Finland, the proportion of combatants in the Muslim population is more than three times higher than in Britain."
"There seems to be something going on in Scandinavian countries, and I think it's been the reluctance to actually identify and confront hate preachers," Rafiq said. "Actually sometimes I think that hate preachers and people who would purvey these messages towards Islamism is normative Islam, which it really isn't."
Rafiq said he believes that recruitment to radical Islamic groups must be combated by challenging the extremist views in online social media and forums.
"For every person that puts up a viewpoint which is leading to radicalisation, we need 20 people to counter those ideas and views, from intellectual, social, emotional and spiritual perspectives," Rafiq said.
According to its website, Quilliam is "the world's first counter-extremism think tank set up to address the unique challenges of citizenship, identity, and belonging in a globalised world."