Yet another area on Israel's border ripe for taking over by these islamonazi 7th century whackjobs.
If I were a Marionite Christian living in Lebanon, I'd be mightily concerned over the spreading of support of the Islamic State, the Shi'ites can't be trusted to spare their hides either.
Militants like Abu Abdullah talk confidently of eventually having enough numbers to make their takeover of Jordan inevitable.
ISIS support grows in Jordan town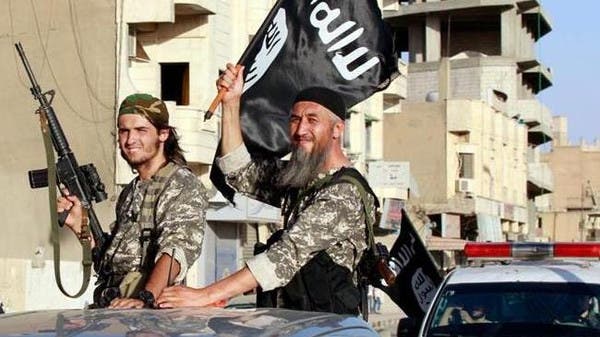 Militant Islamist fighters wave flags as they take part in a military parade along the streets of Syria's northern Raqqa province. (File Photo: Reuters)
The Associated Press, Maan
Saturday, 6 December 2014
Local authorities quickly stripped away public signs of support for the Islamic State of Iraq and Syria (ISIS) group in this desert town. Black flags have been removed from rooftops. Graffiti proclaiming the extremists' imminent victory have been whitewashed.
But supporters of the Middle East's most radical extremist group are only laying low after their surprise show of strength in protests last summer. Despite government efforts, support for ISIS is growing in Maan and elsewhere in Jordan, one of the West's key allies in the region, say ISIS activists, members of rival groups and experts on political Islam.
One of the leading ISIS activists in Maan said he and others are still working to build their base.
"In homes, at work, in mosques, in the streets, we reach out to people to call them to the real Islam," the 40-year-old blacksmith, Abu Abdullah, told The Associated Press. Like other ISIS supporters interviewed by the AP, he spoke on condition he be identified only by his nickname for fear of troubles with authorities.