It's an amazing thing how Muslims always finds someone, or some other group, not as radical and violent as themselves, and set themselves to correct the situation.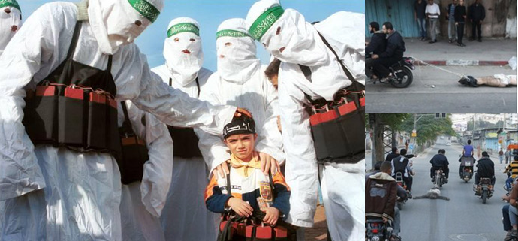 Just remind yourself that Hamas throws its opposition from tall buildings (a traditional koranic punishment reserved for homosexuals) drags its freshly executed through its streets, indoctrinates its youth with Islam 101 and with hopes of killing Jews, exacts jizya from its Christians and sets its society on a perpetual course of wanting nothing else but the destruction of the Jewish state of Israel, and yet IS challenges their Islamonazi street cred.
When One Radical Group Believes Another Is Not Radical Enough
by Khaled Abu Toameh  •  December 5, 2014 at 5:00 am
Now almost everyone is talking about the Islamic State threats in Gaza against poets, writers and women. The leaflets mention the poets and writers by name — a move that has created panic. The leaflets also include an ultimatum to Palestinian women to abide by Islamic attire or face the Islamic State style of punishment — presumably being stoned to death.

Of course, all this is taking place while Hamas continues to insist that that the Islamic State is not operating in Gaza. Those who are taking the threats seriously are the writers and women whose names appeared in the leaflets.

Islamic State flags can already be seen at football stadiums, on windshields of vehicles, mosques, educational centers and wedding invitations.

It is also clear that if and when the Hamas regime collapses, the Gaza Strip will not fall into the lands of the less-radical Palestinians.

It is important to keep in mind that the counties in Europe now voting for a Palestinian state may effectively be paving the way for a takeover by Islamic State.
It is always dreamlike to see one Islamist terror group accuse the other of being too "lenient" when it comes to enforcing sharia laws. But it is not dreamlike when a terrorist group starts threatening writers and women.
That is what is happening these days in the Gaza Strip, where supporters of the Islamic State are accusing Hamas of failing to impose strict Islamic laws on the Palestinian population — as if Hamas has thus far endorsed a liberal and open-minded approach toward those who violate sharia laws.
Until this week, the only topic Palestinians in the Gaza Strip were talking about was how to rebuild homes and buildings that were destroyed during the last war between Hamas and Israel.
Now, however, almost everyone is talking about the Islamic State threats against poets, writers and women.
Continue Reading Article