Somehow, I have a problem with identifying these two pieces of crap as 'Britons'…….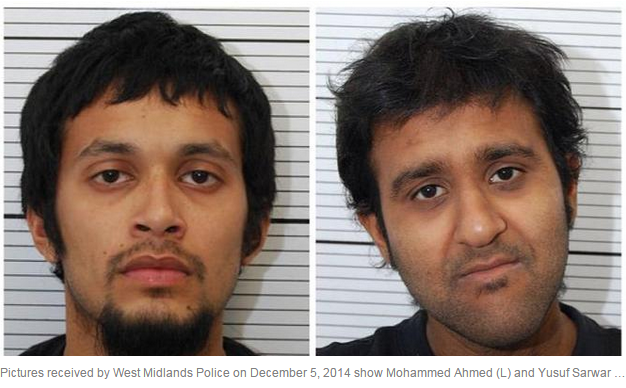 Britons jailed for Syria-related terror offences
London (AFP) – Two British men were sentenced to prison for terror offences Friday, as security forces crack down on what they say is a mounting threat from jihadists radicalised by the Syria conflict.
Childhood friends Mohammed Ahmed and Yusuf Sarwar, both aged 22 from Birmingham in central England, were jailed for 12 years and eight months each.
In a separate case, Mashudur Choudhury, a father of two in his early 30s from Portsmouth on the southern English coast, was sentenced to four years jail for engaging in preparation of terrorist acts.
Ahmed and Sarwar, who pleaded guilty, were jailed for the same offence after travelling to Syria, where they are believed to have spent eight months with Al-Qaeda's Syrian affiliate the Al-Nusra Front.
They went to Syria in May last year after contacting Islamic extremists, and were arrested on their return to Britain in January, a court heard.
"They willingly, enthusiastically and with a great deal of purpose, persistence and determination embarked on a course intended to commit acts of terrorism," judge Michael Topolski said.