The would have done the same to terrorist Stinky Arafat.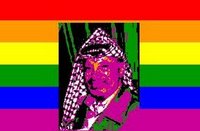 ISIS Stones to Death Two Gay Men
ISIS reportedly executes by stoning two allegedly gay males in Syria.
Published: November 26th, 2014

ISIS allegedly stoned to death two men in Syria because they were gay.
The first of the two was killed in the town of Mayadeen, in the eastern province of Deir Ezzor. The victim was approximately 20 years old.
According to the Great Britain-based Syrian Observatory for Human Rights as reported by Al Arabiya, ISIS said it found videos on the victim's mobile phone showing him "practicing indecent acts with males."
A second victim, an 18 year-old male, was stoned to death in the same province by ISIS which claimed this victim also was gay.
However, activists on social media said that the two men were simply opponents of ISIS. The terrorist group claimed the two victims were gay as a pretext for the murders.