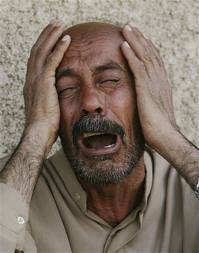 10 extremists (tt: Islamonazis) killed, other 18 arrested in North Sinai
The Egyptian Armed Forces killed 10 alleged extremists and arrested 18 others were arrested in raids conducted in the cities of Rafah and Sheikh Zuweid, North Sinai.
Official sources also report the army destroyed 11 motorbikes and 15 shelters being used to harbor extremists, and seized three vehicles and several army uniforms.
The military also discovered seven bombs and a field hospital allegedly used to treat injured militants, which were destroyed.
The troops did not suffer loses in the raids and are expected to resume until the whole area is combed.
ANP leader, MQM worker killed in Karachi violence

The ANP have condemned the killing of Dr Ziauddin. -AFP/File
KARACHI: An Awami National Party (ANP) district president and a Muttahida Qaumi Movement (MQM) party worker were killed in two separate incidents of violence in Karachi, DawnNews reported.
Unknown gunmen shot dead ANP leader Dr Ziauddin in Orangi Town after he was returning from a mosque after prayers.
The gunmen opened indiscriminate fire, as a result of which Dr Ziauddin died on the spot. The assailants fled from the scene soon after the shooting.
He body was later shifted to Abbasi Shaheed Hospital Karachi. The motive behind the killing could not be ascertained yet.
We've Lost Count of the Dead in South Sudan
There have been so many devastating news stories it's hard to keep up these days. We've had Ebola, we've had hostages killed by ISIS, we've had Ukraine and now I'm here to present another to you: South Sudan.
I know, it's almost unfair to give you another piece on just how many wrongs are out there, but South Sudan is in crisis, and you should know that. You should know a humanitarian disaster is occurring where children in refugee camps are starving to death. You should know that fighting hasn't stopped. You should know that tribal factions held by President Salva Kiir and the former Vice President Riek Machar have threatened hundreds of thousands of lives and that the word 'genocide' has been brought up more than once.
It is a war that is so heavily entrenched and difficult to monitor that according to an article by Business Day Live, "missing from the conflict is a clear death toll, as nobody — not even United Nations peacekeepers — has been keeping count. The International Crisis Group (ICG), a conflict think-tank, estimates at least 50,000 people have already died but it admits the true figure could even be double that."
SAS quad bike squads kill up to 8 jihadis each day… as allies prepare to wipe IS off the map: Daring raids by UK Special Forces leave 200 enemy dead in just four weeks 
Targets are identified by drones operated by SAS soldiers
Who are then dropped into IS territory by helicopter to stage attacks
The surprise ambushes are said to be 'putting the fear of God into IS'
The raids are attacking IS's main supply routes across western Iraq 
SAS troops with sniper rifles and heavy machine guns have killed hundreds of Islamic State extremists in a series of deadly quad-bike ambushes inside Iraq, The Mail on Sunday can reveal.
Defence sources indicated last night that soldiers from the elite fighting unit have eliminated 'up to eight terrorists per day' in the daring raids, carried out during the past four weeks.
Until now, it had been acknowledged only that the SAS was operating in a reconnaissance role in Iraq and was not involved in combat. But The Mail on Sunday has learned that small groups of soldiers are being dropped into IS territory in RAF Chinook helicopters – to take on the enemy.