A Death in Syria
by Mark Steyn
Steyn on America
November 20, 2014
In a few hours' time, the President of the United States will apparently do to his oath of office what the Islamic State does to its captives. As I said to Hugh Hewitt the other day, even a constitution of meticulously constructed checks and balances requires a certain seemliness of its political class. This chief executive is brazen in his lawlessness, and ever more so. And he has calculated that those who object lack the stomach to do anything about it. We shall see.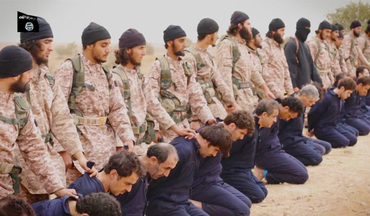 However, I would like also to note another example of presidential brazenness this week – Barack Obama's reaction to the latest beheading of a US citizen by the head hackers of the Islamic State. Peter Kassig's death video was not as the others:
David Haines and Alan Henning – both from Britain – and Americans James Foley and Steven Sotloff each made statements before their deaths in earlier videos. Each held Barack Obama or David Cameron to blame for their deaths, because of American and British military action against Isil in Iraq and Syria.
There was no such statement from Peter Kassig. Instead, "Jihadi John" appears with Mr Kassig's severed head, and sneers, "He doesn't have much to say."
Indeed. But I wonder what he had to say in the last moments of his life. Evidently not a statement blaming Obama for his predicament. Perhaps he even pushed back against his executioner in a more forceful way. In Mark Steyn's Passing Parade, in an essay on another westerner beheaded by the jihadists, I salute someone who declined to go gentle into that good night:
Consider Fabrizio Quattrocchi, murdered in Iraq on April 14th. In the moment before his death, he yanked off his hood and cried defiantly, "I will show you how an Italian dies!" He ruined the movie for his killers. As a snuff video and recruitment tool, it was all but useless, so much so that the Arabic TV stations declined to show it.
Evidently, Mr Kassig also ruined the movie for his killers. We will never know how. The classical idea of "the good death" has little resonance in today's western world, except perhaps among its soldiery – and Mr Kassig was not just another deluded humanitarian tourist in the heart of darkness but a battle-hardened army ranger. Did he show his captors "how an American dies"?