It's one of the reasons why the average American will never side with them, they have nothing in common with murderous thugs.
H/T: Daniel Greenfield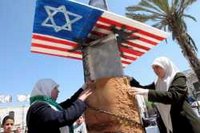 "Palestinian" Terrorists Killed More Americans in 2014 Than ISIS
It should also be pointed out that the large scale airplane hijackings used by Al Qaeda on September 11 were pioneered by the PLO, though Al Qaeda received direct training in the techniques from the Iranian-backed Al Qaeda.
As ABC's Jake Tapper and a number of others have pointed out, this year Arab Muslim terrorists who operate under the "Palestinian" brand name have killed more Americans than ISIS. (via David Gerstman)
While ISIS beheaded three American hostages, seven Americans have been killed ranging in age from 3-month old Chaya Zissel Braun who was a victim of Car Jihad, hurled out of her stroller and smashed against the pavement, to 16-year-old Naftali Fraenkel, murdered along with two others by Hamas, to today's murder of four older Rabbis, three of them Americans, including 59-year-old Rabbi Moshe Twersky.
Nobody is suggesting that the United States should start bombing the PLO and Hamas, but it would be nice if it stopped using taxpayer money to fund them, if it broke off relations with them and stopped interfering in Israeli counterterrorism operations.