Self defense is the only way to safeguard against the mindless murder of islamonazi savages.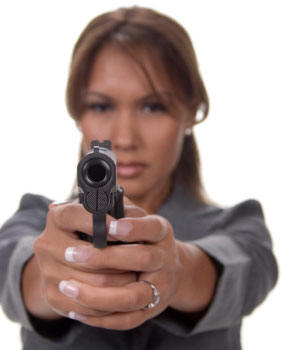 Tears Don't Protect Against Murder
After serving a few years in prison for his role in the Munich Massacre, Willi Pohl moved to Beirut. The brief sentence was a slap in the wrist, but Pohl had still served more time in prison than the Muslim gunmen who had murdered eleven Israeli athletes and coaches during the 1972 Summer Olympics. Mohammed Safady and the Al-Gashey cousins were released after a few months by the German authorities.
They went back to Lebanon and so did he.
A decade after the attack, Willi Pohl had begun making a name for himself as a crime novelist. His first novel was Tränen Schützen Nicht vor Mord or Tears Do Not Protect Against Murder.
While Pohl was penning crime novels, Israeli operatives had already absorbed the lessons of his first title. Tears, whether in 1939 or 1972, had not done anything to prevent the murder of Jews. Bullets were another matter.
The head of Black September in Rome was the first to die, followed by a string of PLO leaders across Europe. Those attacks were followed by raids on the mansions and apartments of top Fatah officials in the same city where Pohl had found temporary refuge. By the time his first book was published, hundreds of PLO terrorists and officials were dead.
European law enforcement had failed to hold even the actual perpetrators of the Munich Massacre responsible, never mind the representatives of the PLO who openly mingled with red radicals in its capitals. Israeli operatives did what the German judicial system had failed to do, putting down Safady and one of the Al-Gasheys, while the other one hid out with Colonel Gaddafi in Libya.
The Israeli raid on the PLO terrorists in Beirut's Muslim Quarter missed one important target. Arafat. And so, on another September day, some  later, September 13, 1993, Israeli Prime Minister Rabin shook hands with Arafat and proclaimed, "Enough of blood and tears! Enough!"
But the blood and tears had only begun, as a PLO on its last legs was revived and built its terrorist infrastructure inside Israel's borders.
By 1993, the year of the infamous Rose Garden handshake, 45 Israelis had been killed and 34 injured in Muslim terrorist attacks. A year after the handshake, the toll stood at 109 Israelis dead and 456 wounded. By 2002, the year that Israel's patience finally broke and Sharon sent forces storming into Arafat's compound, the numbers for that year were a horrifying 451 dead and 2,348 wounded.
– See more at: Sultan Knish H/T: Doris Wise Montrose