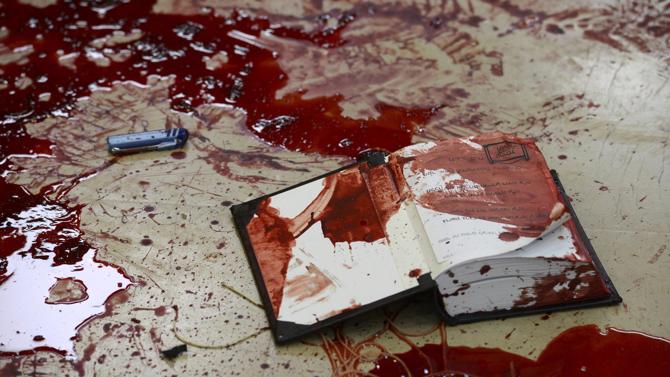 Paleostinian savages attack a synagogue leaving four dead (three were Americans) and several dead.
"I see Arabs all the time and I am friendly, but you don't know who will kill next – especially with the younger generation," he continued. "You can see it in their eyes – they look at you like you are garbage."
Axes, knives and guns pierce the heart of a once peaceful community
The stormed the synagogue and shouted 'God is great!' in Arabic and started killing people with axes and knives," said a man in disbelief, holding his head in his hands. "They are animals!"
The profoundly incongruous juxtaposition of an unimaginably violent mass murder in a sacred house of worship Tuesday morning by two Palestinian terrorists transformed a picturesque and peaceful Jewish neighborhood in Western Jerusalem into a scene from a horror film.
Amid dozens of heavily armed police officers, ambulances and helicopters hovering above, the site of the massacre, Bnei Torah Synagogue, nestled in a normally tranquil street in the ultra-Orthodox community of Har Nof, took on the visage of a war zone.
Hundreds of shocked residents watched police and paramedics enter and leave the crime scene behind red tape cordoning off the area.
"There were people hacked with axes on the floor screaming," said Ezra Batzri, a 24-year-old yeshiva student. "I heard seven gun shots and people were running in all different directions. The cops came and told us to go back home because they thought one of the [terrorists] was still out there."
In the aftermath, four rabbis, all wrapped in teffilin, were either hacked or shot to death, while six others, including two police officers, were rushed to area hospitals in critical or serious condition.
The two suspects, Odai Abed Abu Jamal, 22, and Ghassan Muhammad Abu Jamal, 32, of Jabel Mukaber in east Jerusalem, were killed in a shootout with officers at the shul's entrance.
According to Batzri, a number of young Arabs work in the neighborhood's grocery stores and synagogues.
UPDATE: 
The situation is obviously still developing, but I wanted to make sure you had Kerry's immediate statement on the attack.
In addition to calling for a condemnation by the Palestinian leadership "at every single level" – a gesture toward among others Palestinian Authority (PA) President Mahmoud Abbas – Kerry drew an explicit link between recent PA incitement and today's murders. Video via the Associated Press:
This morning, today, in Jerusalem, Palestinians attacked Jews who were praying in a synagogue. The people who had come to worship God in the sanctuary of a synagogue were hatcheted and hacked and murdered in that holy place, in an act of pure terror and senseless brutality and murder. I call on the Palestinian leadership at every single level to condemn this in the most powerful terms.  This violence has no place anywhere, and to have this kind of act, which is a pure result of incitement, of calls for days of rage, of just an irresponsibility, it is unacceptable. So, the Palestinian leadership must condemn this, and they must begin to take serious steps to restrain any kind of incitement that comes from their language, from other people's language, and exhibit the kind of leadership that is necessary to put this region on a different path.
Some more links and background on recent Abbas statements, in case you're following the incitement debate:
Nov 2: "Abbas says Glick shooter will go to heaven as martyr" (you'll be hearing more about this stmt – Glick is an activist for expanded Jewish access to the Temple Mount; he's also a rabbi and when he was shot earlier this month Abbas hailed the terrorist as a hero; today 2 other terrorists walked into a synagogue and started murdering other rabbis)
http://www.timesofisrael.com/abbas-says-glick-shooter-will-go-to-heaven-as-martyr/
Nov 11: "Abbas accuses Israel of 'religious war'"
http://hosted2.ap.org/apdefault/cae69a7523db45408eeb2b3a98c0c9c5/Article_2014-11-11-ML–Israel-Palestinians/id-156e0bad8ed04655bcb92f5007e7244f
Nov 11: "Abbas: We won't let Israeli extremists 'contaminate' Temple Mount in Jerusalem"
http://www.timesofisrael.com/abbas-israel-sparking-devastating-religious-war/
Paleostinian terrorist garbarge: