Mouth organ for hamas islamonazis.
Propagandist spin-meister for Norwegian government. He never had anything bad to say about his jihadi pals who made a permanent headquarters in the basement of the hospital he worked at in Gaza.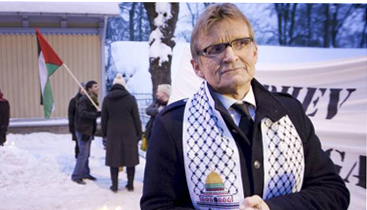 Israel bars Norwegian doctor, but denies life ban
Jerusalem (AFP) – Israel has blocked Norwegian doctor Mads Gilbert from entering the country and thereby accessing the Gaza Strip, but denied Monday it had imposed a lifelong ban on the outspoken medic.
"He has been banned from entering Israel," foreign ministry spokesman Paul Hirschson told AFP, categorically denying reports Gilbert had been blocked from entering Gaza.
Access to the Gaza Strip, which has been under an Israeli blockade since 2006, is possible only through the Erez crossing from Israel, or the Rafah terminal on the Egyptian border.
But Rafah has been blocked by Cairo since a deadly suicide bombing in the northern Sinai on October 24, leaving Erez as the only point of entry to the Palestinian territory.