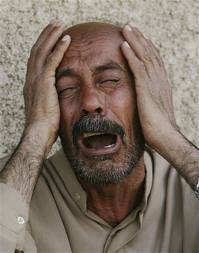 Four Killed in Libya Clashes Around Tripoli Airport
TRIPOLI, LIBYA:  Deadly fighting between Islamist militias and forces backed by Libya's internationally recognised government on Sunday forced the closure of an airport in eastern Tripoli, military sources said.
At least four people were killed and 10 wounded in clashes between the Islamist Fajr Libya (Libya Dawn) and fighters loyal to the government around the Mitiga air base, the sources said.
An airport official said that Mitiga was closed to air traffic due to the violence.
Libyan carriers moved civilian flights to Mitiga after Tripoli's main international airport was damaged by fierce fighting between state-backed fighters and Islamist militias in July.
Female Afghan MP survives suicide attack, 3 dead
Kabul (AFP) – A suicide bomber on Sunday attacked the vehicle convoy of a prominent female Afghan MP near the parliament in Kabul, killing three civilians and injuring 22 others, officials said.
The blast, in which the attacker detonated an explosives-packed car, badly damaged Shukria Barakzai's vehicle and shattered nearby windows on the main road in the west of the city.
Television footage showed a clearly shaken Barakzai walking away from her wrecked car while other passengers were covered in blood.
IS executes nearly 1,500 people in Syria in 5 months: monitor
Image grab taken from a propaganda video released on March 17, 2014 by the Islamic State of Iraq and the Levant's al-Furqan Media allegedly shows ISIL fighters at an undisclosed location in Iraq's Anbar province (AFP Photo/)
Beirut (AFP) – The jihadist Islamic State group (IS) has executed nearly 1,500 people in Syria in the five months since it declared the establishment of a "caliphate", a monitoring group said Monday.
One dead as Kenya police raid radical mosques
Nairobi (AFP) – One man was killed Monday as Kenyan security forces raided mosques in the port city of Mombasa searching for weapons and radical supporters of Somalia's Al-Qaeda affiliated Shebab militants, police said.
Security forces began the operation in the early hours of Monday morning, targeting the Masjid Musa and Sakina mosques in Mombasa.
"We had information that the group has been planning an attack, and that is why the raid was conducted," Mombasa police chief Geoffrey Mayek said.
"We have arrested several of them, including six notorious ones," he added.
5 Houthis killed in C. Yemen clashes
File Photo
Clashes had erupted between the two sides in Rada'a, one of the cities of Al-Bayda', leaving five Houthis dead
World Bulletin/News Desk
Five Shiite Houthi militants were killed on Sunday in clashes with tribal militants in the central Yemeni province of Al-Bayda', a local source said.
The source, who requested anonymity, told Anadolu Agency that clashes had erupted between the two sides in Rada'a, one of the cities of Al-Bayda', leaving five Houthis dead.
The source did not, however, outline weather there had been any human casualties among the armed tribesmen.
 'Dozens dead' in Pakistan military operation
Army says three soldiers and 34 fighters killed in air strikes and ground clashes centred on village of Datta Khel.
Air strikes and ground clashes between Pakistani troops and armed groups in the northwest have left three soldiers and 34 fighters dead, the military has said.
The army operation centred on the village of Datta Khel in the North Waziristan tribal district, where the military has been mounting an offensive against armed group strongholds since June.
"During a search operation seven terrorists were killed in Datta Khel. Three soldiers including an officer also embraced martyrdom," a military statement said on Sunday.