Just like Finland's vice chairman of the foreign affairs committee, Pertti Salolainen.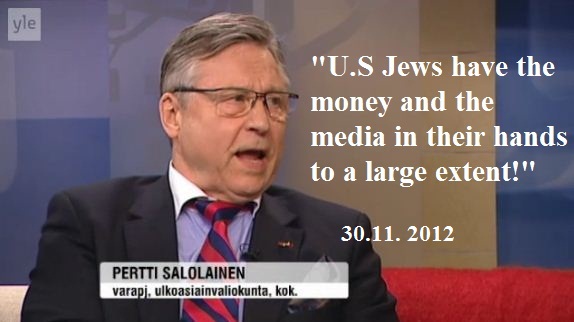 French Muslims see Jews controlling nation's economy, media
(JTA) — New surveys conducted in France suggested that Frenchmen of Muslim origin were far likelier to espouse anti-Semitic views than the general population.
In the two surveys, which were conducted in recent months, 74 percent of respondents who self-identified as observant Muslims agreed with the statement that Jews have too much influence on French economics, compared to 25 percent in the general population.
The assertion that Jews control the media received an approval rating of 23 percent in the general population group and 70 percent among practicing Muslims.
The surveys were released Sunday at the fifth annual national convention in Paris of the CRIF umbrella group of French Jewish communities and organizations. A total of 1,580 people older than 16 were polled after Sept. 25 by the IFOP polling company and the Foundation for Political Innovation.