Of course they are, as is the founder of their religion, Mohamed.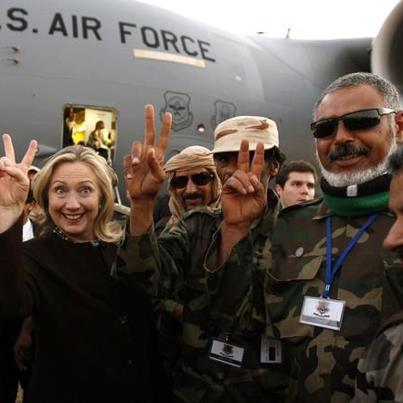 Hillary and the Libyan branch of the Muslim Brotherhood in happier times.
Emirates brands Muslim Brotherhood terrorists
DUBAI, United Arab Emirates (AP) — The United Arab Emirates designated the Muslim Brotherhood and dozens of other Islamist groups as terrorist organizations on Saturday, ratcheting up the pressure on the group by lumping it together with extremists such as the Islamic State group and the Nusra Front, al-Qaida's affiliate in Syria.
The federation's Cabinet adopted the designations against the 83 groups, the official state news agency WAM said. They include Al-Islah, an Emirati group suspected of ties to the Brotherhood whose members have faced prosecution in the seven-state federation, which includes the cosmopolitan business hub of Dubai and the capital of Abu Dhabi.
The move follows a decision by Saudi Arabia in March to designate the Brotherhood a terrorist group along with al-Qaida and others. The Emirates voiced support for the decision at the time, and accuses Islamist groups of trying to topple its Western-backed ruling system.
Saudi Arabia and the Emirates have taken a firm stance against the Brotherhood since its ascendance in Egypt in the wake of the Arab Spring, and the oil-rich Gulf neighbors are strong supporters of Egyptian President Abdel-Fattah el-Sissi. He was elected earlier this year after leading the military overthrow of Islamist President Mohammed Morsi.