Obama not available for comment.
Erdogan and Obama had a comfortable and friendly relationship, and most likely shared the same common desire for a renewed neo-Ottoman empire in the region.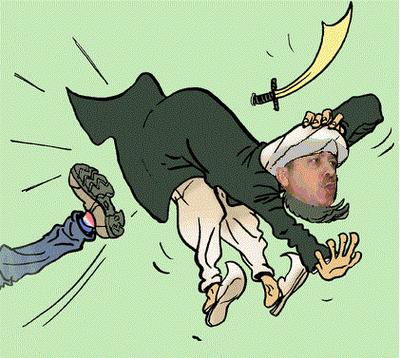 In the entire Middle East, Turkey now has only two allies: Qatar, which looks more like a rich, family-owned gas station than a state; and Hamas, a terrorist organization. But Turkey has a rich menu of hostilities: Iran, Iraq, Syria, Lebanon, (discreetly) Jordan, Israel, the United Arab Emirates, Egypt, (as always) Cyprus, (now) Tunisia, (also discreetly) Morocco and Algeria, and (most warring factions of) Libya.
Shortly after the Arab Spring rocked several capitals in the Middle East, the Turks devised a plan that would enable their country to emerge as the new Ottoman Empire. While deliberately and systematically antagonizing Israel, Ankara would: replace the Shia-controlled Syrian regime of Bashar al-Assad with a Turkey-friendly Sunni ruler; support the Sunni in Iraq and Lebanon and boost their political influence; support Hamas in the Palestinian territories and provoke it to violence against Israel; and make sure that the Muslim Brotherhood or their various brethren rule Egypt, Tunisia and Libya. Saudis were already "our Muslim brothers." Eventually, all former Ottoman lands would produce governments subservient to the emerging Turkish Empire.
Nearly four years later, Syria's Assad is comfortably sitting in his presidential palace in Damascus and possibly laughing at the mess the Turks created by supporting Syria's jihadists. These jihadists have only wreaked havoc along Turkey's nearly 900-mile-long borders with both Syria and Iraq.
The Shia in Iraq are as powerful as before, and remain obedient to Turkey's regional sectarian rival, Iran.
The Shia in Lebanon — where Turks are a high-value currency on the hostage market — are increasingly hostile to Turkey.
No one knows who rules Libya after the downfall of Colonel Qaddafi, but none of the warring factions want any Turks meddling in the former Ottoman colony.
Meanwhile, a coup in July 2013 toppled the Turks' most-trusted regional ally, Egypt's then president, Mohamed Morsi. Today, not only the Turks but also Turkish products — including even soap operas — are unwanted in Egypt.
With the downfall — ironically, instead of Assad — of their Islamist allies in the region, the Turks recently discreetly moved to win back Egypt, the most populous Muslim nation in the region.
Turkish Foreign Minister Mevlut Cavusoglu asked to meet with his Egyptian counterpart, Sameh Hassan Shorky Selim, on the sidelines of the UN summit in September. The Egyptian minister abruptly cancelled the meeting, citing Turkish President Recep Tayyip Erdogan's "insulting words about [Egyptian] President Abdel Fattah al-Sisi." A statement from the Egyptian foreign ministry called Erdogan's words "lies and fabrication."
More here. H/T: Fjordman