Left alive and arrogant, they never stop trying to murder Jews.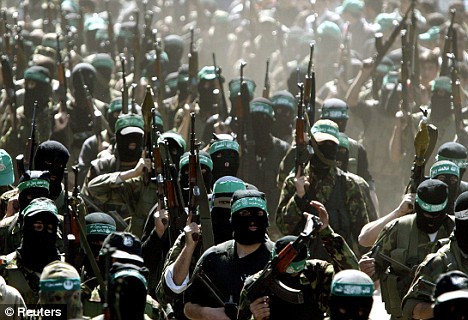 Large IDF and police forces are fanning out in Israel's large cities to head off "a very large terror attack" that the genocidal Islamist Hamas organization is believed to be planning against Israel. The Israel Security Agency (ISA, or Shin Bet) is also trying to prevent it by locating possible terrorists.
Minister of Public Security, Yitzchak Aharonovich, instructed Police Commissioner Yohanan Danino Monday night to call up several reserve battalions of the Border Police, in the wake of the latest terror wave and the concern that further attacks are imminent throughout Israel.
In addition, a full closure may be imposed on Judea and Samarias, meaning that Arabs will not be allowed into Israeli towns and communities.
A nationwide operation to round up Arabs staying in Israel illegally has also been launched.
Prime Minister Binyamin Netanyahu held an urgent nighttime security consultation after the attacks in Alon Shvut and Tel Aviv, in which two Jews were murdered. Netanyahu seeks to advance a series of security measures, including the demolition of the homes of terrorists.