---
The same Islamic anti-Semitism that drove Jews out from Middle Eastern muslim countries after Israel became a state.
(Sign reads "This site to be demolished")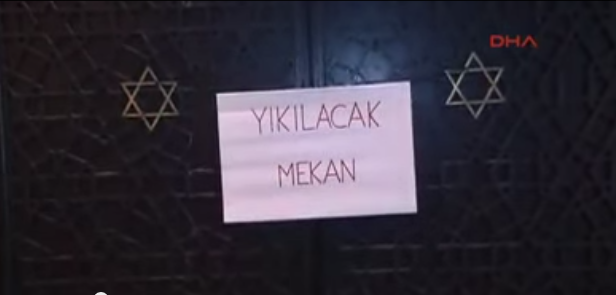 A full translation of this article and so on to come later today from one of Vlad's translators.
Holding banners, the demonstrators declared "Israel you will pay for what you do. Once again we are warning the Zionist and bloodsucker Israel that we, the Alperens, we see all Muslim blood as our own, every soul as our own.

"And we proclaim to the world that we will not permit any fait accompli," under the mistaken presumption that Israel planned to divide the Al Aqsa mosque into two and permit Jewish worshipers, as well.

"Al Aqsa Mosque must be protected by Turkish soldiers," the protesters said, reading from a press statement.
A Turkish friend: 
Members of Turkey-based IHH terror group that organized the Mavi Marmara flotilla to Gaza now call for the 'cleansing' of Jews and Synagogues from Istanbul. "Let us cleanse Istanbul!"
Vlad Tepes translator Tania via Kehaber.org:
IHH says 

"Let's cleanse the synagogues and Jews from Istanbul"…
Wednesday 5th November 2000 people protested at Beyoglu carrying the Palestinian flag in their hands. They believed that the Golden Dome in Jerusalem was attacked and bombed. During the demonstration they praised Hamas and shouted out "demolish Israel" and "Hamas kill the Jews".
Ahmet Yilmaz published a message on IHH social media, saying get rid of the synagogues and the Yahudis (Jews) in Istanbul, there were negative comments such as "they are killing children and selling women all you care is about the golden dome." and they removed it from Facebook.
Poster says, "To be demolished", and was placed on the synagogue front, and back doors. The person put the sign and walked away. What you see in the pictures was the demonstration that took place on the 5th. They are two different events.
[Vlad Tepes' Editor]…………
Any errors in translation are mine as I edited what I thought were grammatical mistakes in the translation which could have had more than one meaning. I fixed them based on brief chats with the translator. There is a great deal more on the original page if anyone wants to try and load it up on Google translate.
I am referring to the IHH as a 'GONGO' because that is what I suspect they are. A GONGO is a government agency masquerading as a non-governmental agency, or an NGO. One example of this would be an Iranian human rights group created by the Islamic regime but masquerading as a separate entity. The value of this would be to fill up time at, for example, the UN HRC where they would use up all the time allotted to real NGOs and human rights groups by just basically flattering the regime that created them and asking bogus questions.
The IHH is the group that set up the initial flotilla to Gaza a few years ago which was widely believed to be a Turkish government event. But I cannot be certain of any of that. It is also possible that the IHH is an official part of the Turkish government as opposed to just a kind of 'Cossack' which I suspect they are.
Anyone who knows, please explain in the comments and ill fix as needed here in the post.