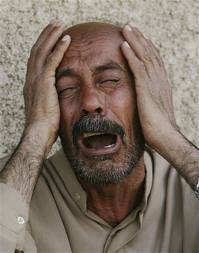 Sudan Presidential Palace Gunman, 2 Guards Killed
Col. Sawarmi Khalid told The Associated Press that the attack started when the man argued with the guards outside the palace because he wanted to pass into a secured area.
When the guards prevented him from passing, Khalid said, the man stabbed a guard with a sharp object, then seized a rifle and started firing. The shooting left two guards dead, and prompted others to return fire and shoot the man, Khalid said. The semi-official Sudan Media Center website said the unidentified man approached palace guards with a knife, stabbing one and snatching his weapon, before opening fire at the same guard and another.
Egyptians in Sinai border town complain of heavy-handed army crackdown after militant attack
RAFAH, Gaza Strip –  Egyptian troops are pressing ahead with the demolition of hundreds of homes along the border with the Gaza Strip, cutting off electricity and firing warning shots in the air in a heavy-handed campaign to evict thousands of residents from the volatile area.
The forced evacuations in Egypt's Sinai Peninsula are further alienating a restive population with longstanding grievances against the government of Egyptian President Abdel-Fattah el-Sissi, raising the risk of more violence in the lawless region.
Third Australian killed in Syria in past two weeks

Former Kings Cross bouncer Mohammad Ali Baryalei is one of three Australians believed to have been killed in Syria in the last two weeks.
An Australian man is believed to have been killed in Syria making him the third reported Australian death in the past two weeks.
The death of the man from south-west Sydney follows still unconfirmed reports that Islamic State kingpin, and Australian, Mohammad Ali Baryalei and another IS fighter by the name of Abu Noor al-Kurdi have also been killed.
The three deaths bring the suspected death toll of Australians in Syria and Iraq to 13 and comes as US President Barack Obama authorised Defence Secretary Chuck Hagel to send up to 1500 additional US troops to Iraq. That move doubles the force the US has built up since June to fight the IS militants controlling much of Iraq and Syria.
Pakistan police officer kills 'blasphemer' with axe
A Pakistani policeman has been arrested after allegedly killing a man with an axe because he suspected him of committing blasphemy.
Police say Faraz Naveed struck the victim, Tufail Naqvi, on the neck and head after the latter was arrested during a street fight on Wednesday.
The victim is reported to have had a history of mental instability.
His death comes after a Christian couple were killed by a mob on Tuesday for allegedly desecrating the Koran.
Blasphemy is a highly sensitive issue in Pakistan and critics argue that blasphemy laws are often misused to settle personal scores and unfairly target minorities.