It's nothing but all out war on the agents of Islam and their jihad.
It's either that or surrender, and bowing towards the meccan moon god.
Taliban group threatens to attack India following border blast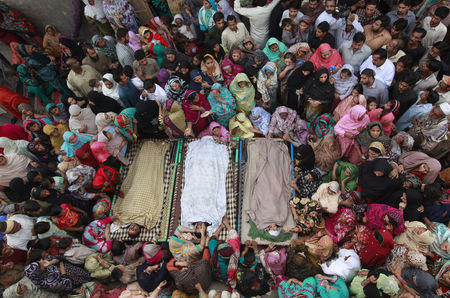 By
Jibran Ahmad
46 minutes ago
PESHAWAR Pakistan (Reuters) – A new Pakistani Taliban group behind this week's devastating suicide bombing on the Pakistani-Indian border said on Wednesday the attack was as much aimed at India as Pakistan, suggesting that Indian targets might be next.
At least 57 Pakistanis were killed during a popular flag-lowering ceremony on Sunday when a bomber tried to get as close as possible to the border in a possible attempt to cause casualties on the Indian side as well.
Ehsanullah Ehsan, a prominent militant and spokesman for the group, Tehreek-e-Taliban Pakistan Jamaat Ahrar (TTP-JA), said he had warned Indian Prime Minister Narendra Modi that attacks in India were in the pipeline.
"I have already conveyed it to Modi … that if our suicide bombers can carry out attacks on this side of the border, they can easily do it on other side of the border in India," he told Reuters by telephone from an undisclosed location.