This-is-huge!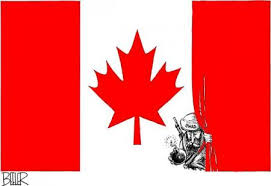 Feds cracking down on 'barbaric' cultural practices, immigrant polygamy
Colin Perkel, The Canadian Press
TORONTO – Legislation aimed at curbing "barbaric" cultural practices from occurring in Canada would be introduced on Wednesday, Citizenship Minister Chris Alexander has announced.
Although he refused to provide details, Alexander said the legislation would also take aim at "honour-based" violence against girls and women.
"We intend sending a very clear message to anyone coming to Canada that such practices are unacceptable," Alexander said.
"We will be standing up for women and girls who have come to Canada for a better life."
The legislation, entitled the "Zero Tolerance for Barbaric Cultural Practices Act," follows cases in which Afghan men in Canada were accused of killing female relatives.
The minister said provisions in the bill will do away with the ability of perpetrators to argue provocation or cultural differences as a mitigating factor.
"Honour-based killings are nothing more than murders," Alexander said.
"We will be working through this bill to make sure that such killings are considered the murders that we know them to be. There is absolutely no room for ambiguity."